The ASA uphold Hit-air complaint against Point Two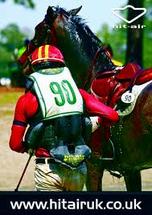 It's just over a year since Hit-air launched in the UK and almost a year to the day that Point Two took out an advert in Horse and Hound declaring, in an authoritative tone......'RIDERS BEWARE'.
The original advert, published in the Horse and Hound on 24 March 2011, warned riders of the dangers of the new air vests on the market, declaring that:
• 'the jackets in question do not have CE accreditation'
• 'this makes the product illegal to sell and will carry no insurance'
• 'please contact trading standards ....... - you'll be entitled to a full refund'
We felt it necessary to take formal proceedings against Point Two as the Advertising Standards Authority rules are rarely so blatently disregarded.
As a new venture we were incredibly concerned - in fact, we were horrified - about the impact this would have on our business and the public's perception of air vests in general. We felt this brought the whole air vest industry into disrepute.
We were in danger, for a while, of allowing it to distract us from our primary objectives of educating riders of the benefits of air technology and selling air vests! However, the support from the public and equestrian governing bodies was overwhelming and we have had a fantastic year.
The Ruling
The Advertising Standards Authority investigated our CE certification and our testing data and concluded that all Hit-air vests sold by Hit-air UK are fully compliant and have been subjected to extensive testing. They upheld our complaint under the Code of Advertising Practice rules 3.1 and 3.42 for misleading advertising, imitation and denigration.
We are still asked by customers and potential stockists if our vests are CE certified. If a rumour is repeated often enough it is amazing how it can stick around. Therefore, we are now relieved that this latest complaint against Point Two has been upheld by the ASA.
ASA Action
The ASA have applied the only sanctions available to them:
• The ad must not appear again in it's current form
• Point Two must take care that they are not misleading or denigratory in future advertising
The ASA advised us that the only real impact upon companies that break the advertising rules is from media coverage of the ruling.
Thank you for your support.
___________________________________________________________________
Please contact Rachel Ricci for any further details.......
Call 0845 894 2868
Email: [email protected]
Browse horses for sale or place an ad on Horsemart now.

News