Sheryl Crow criticised for horse donation hypocrisy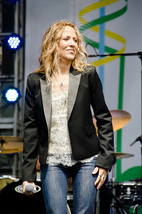 Sheryl Crow has been hailed as a champion of wild horses that roam the range in the West of the USA, however this week she has been seriously criticised by a national animal rights group.
The singer announced that she plans to donate some proceeds from her upcoming show at a Wyoming rodeo to a wild-horse protection group that's suing the government to halt a big mustang roundup in Nevada.
According to CBS News in the USA, Illinois-based Showing Animals Respect and Kindness is calling on the Colorado-based Cloud Foundation to reject the donation.
It is accusing Crow of hypocrisy for performing at Cheyenne Frontier Days where it claims wild horses are abused.

Cloud Foundation officials stood by Crow saying the criticism is unjustified because rodeos are prohibited from using mustangs removed from the range by the government.

They added that Crow is still the champion of wild horses. The saga continues…
News