Older horse riders and getting back in the saddle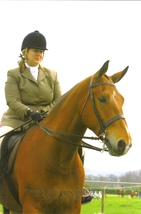 By Melsi
Meet Horsemart reader and blogger Melsi. She describes herself as a 'forty-something back to the saddler'. While many of her non-horsey girlfriends collect handbags and shoes she happily collects numnahs! In her first blog post for Horsemart she introduces herself below and shares why she still gets a buzz from riding...

Hopefully this is the first of many Blogs! This is a little longer than usual because I thought it only polite to introduce myself and how I got from 'that to this'!

I am a forty-something, (call me an oldie boldie) back to the saddle, plus size mum!! Ladies and gents, if you are around the same age and dread pulling on jods that are lighter than black, have yo-yoed with your weight, and are a 'back to the saddle' older rider, then welcome to my world! (Melsi shakes your hand).

Back in the saddle
I have discovered that I am not alone. In fact many of my friends are ladies of a certain age, and many have returned to the saddle after many years of absence. I also have to include the older male riders here too, not many, but they are there tucking their middle age tums into their new jods and turning heads with their grey highlights, (or a balding head in my husband's case).

You only have to visit a show or event to see many of us older riders enjoying their 'back to the saddle' experiences. We may not be as ballsy as you youngsters, and we may have more wrinkles and grey hairs (and cellulite in my case), but we are there all the same.
I have to be honest and admit that none of my riding oldie friends have my plus size behind, but they are all very supportive of my dieting and wistful dreams of sucking my thighs and bottom back into beige jodhpurs before I become a fifty-something.

Showjumping
I did quite a bit of showjumping in my youth, and especially enjoyed the evening jumping meets at a great indoor arena near Liphook in Hampshire where chicken in the basket with chunky chips was a necessity on a cold winter's evening.

My father would stand on the other side of the glass gallery heaving his body over every jump with me, while my mother sat behind her open newspaper, asking if it was all over yet? Her disinterest was not due to her dislike for the event, but rather down to her terrible nerves for me. If I got through to the jump off she would have to take herself away for a toilet break, or risk hyperventilating. This is a feeling I can now relate to, being a mother myself.

My late teens and early twenties were my Ambrose years. I raced on the flat, (winning my first race in public and held a ladies jockeys licence), showjumped, had hopes of being a stuntwoman, loved the odd hunter trial and drag hunted (following a scent) with the Royal Military Academy, Sandhurst, (LOTS of very handsome young military men for a young single filly so why follow a scent when you can just follow them), and a little bit of cross-country. I also ran my father's yard full of broodmares, yearlings and horses out of training. I lived and breathed horses and had little time for anything, or anyone else.



Yes, those were the days! The days when I would happily pull on white jodhpurs, (a most unforgiving garment), and share my delicate curves with all and sundry. Ah those halcyon days of taking my svelte fit body for granted, when I could slip my dainty calves into full length leather boots without giving myself a hernia.

The days when I could throw my leg up and over to mount without having to put my foot in the stirrup have become a blur, whereas now - oh the humiliation, I have to use the mounting block to mount AND dismount!! The me of 2012 has curves in all the wrong places and can only wedge my rugby players' calves into plus size 'gaiters/chaps' (thank you Fuller Fillies). It takes me ten minutes and a puff on my inhaler to pull on hold in pants BEFORE I struggle with my high suction jods. (Melsi shakes head wistfully).

I think non-horsey folk find it hard to understand the connection we have to horses. Once you have them in your heart and your blood, they are there to stay. When I look back at my racing years I now realise I had some sort of burn out.

At 5'8" in height, the extreme weight watching, without the proper care and attention of a nutritionist or dietician, soon took its toll on my body. Instead of taking time out, I stupidly walked away. To this day it is one of my biggest regrets as I feel a real sadness for those lost years.
But the love of horses never left me, and I always felt something was missing. That wonderful smell of the horse and the touch of its muzzle, the camaraderie from other likeminded souls, and that unique connection between horse and rider, I missed it all.

That bond you get from years of loving and caring for your horse, the dedication and hours and hours of training and trusting, health worries, money worries, being out in all weathers, the early starts and late nights, need I go on, not always a delight, but just something, something that was almost spiritual.

No matter how life moves us along and our circumstances change, if you are not fortunate enough to still be around horses, the loss is still great. I am sure many horse-lovers will admit that at some stage in their older years, they dreamt of owning another horse, or perhaps taking up riding again (while their joints allow).

Being a horsey mum
I always swore I would never be a pushy parent with my children, after all, if they wanted to take up riding they would soon let me know. This completely back fired on me with my eldest daughter, so I went the other route with my youngest.

As soon as she was old enough I dropped a few gentle hints about having some lessons, no big deal if she didn't like it! Nope! Not me! I was not going to be one of those AWFUL mother's shouting instructions from the sidelines and I tried really hard to hold it all in when she was having a lesson, but you know mums, sometimes these things slip out. "Shorten your reins darling"......."Rise up, RISE UP"....."Stop looking round"......"Straighten your back"....."Heels DOWN"... YEP, I had turned into that embarrassing parent that I used to look at in disgust all those years ago.
It wasn't long before I found myself watching some older riders, smiling and saying good on them, when inside I was thinking why not have a go? It's like riding a bike! Famous last words, because within three months I was leading my big boy down off a lorry and into my life.

My Maxi Cob Bob
My darling Maxi Cob, Bob was put to sleep just before Christmas. We had been fighting laminitis desperately, and for a big chunky 16.1 Irish Cob this diagnosis came as a terrible shock. Rather stupidly I had always presumed this was an overweight pony problem. I know differently now, and I understand that there are many more cases of laminitis in larger horses than I first believed.

I do think Bob and I had been unlucky though. He had already had a year off work, and much of that time was spent on box rest after having a tear in his tendon sheath. He also had to have his annular ligament cut after the initial success of his tendon operation.
Even though we had many a tough time in his recuperation, he was finally back in work and fit as a flea until the laminitis hit him. I was even looking forward to showing him again, something I had not even considered before.

Bob was a tremendous character. I will be the first to admit we went through a lot of testing times through our seven years together, and believe me when I say to those that think all Cob's are easy calm plodders, they are NOT, well, not all of them, and certainly not my Bob.
With a lot of hard work and determination we came to understand each other's foibles, we loved each other, and we never left the show ring without a trophy or rosette. Both born show off's we excelled at the show ring performance; both our chests puffed out we knew how to perform for the Judge and the camera.

Bob owed me nothing and I was with him for his last breathe, and when he went to sleep and closed his eyes for the last time I thanked him and said I would never own another horse like him. I was ready to hang up my boots. Well, I was nearly 50 so maybe it was time. Then along came George...
Browse our horses for sale or place an ad on Horsemart now.
Latest News