New horse joins Essex Police Mounted Unit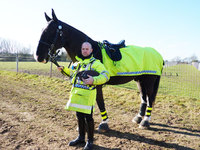 A new member has joined the Essex Police Mounted Unit in the shape of King the police horse.
The pure breed Shire horse is five years old and has been training with Pc Dale Copley at the stables in Writtle, Chelmsford, since September last year after being bought from a breeder in Devon.
King, who stands a massive 18 hands high, has replaced former police horse Bella who retired from her position in 2011 after she developed a problem with a bone in her foot.
The new arrival joins Essex Police's seven other horses; Major, Toffee, Trojan, Rosie, Biscuit, Carlsberg and Patrick and is expected to be fully operational Autumn.
Mounted Unit Sgt Chris Downes said: "King is the perfect police horse. He's big and brave and is doing well in training.
"Before being bought by Essex Police, King came to the stables for a six week trial during which time we were able to assess his suitability as a potential police horse. He was also fully checked over by a vet to make sure he was physically fit for the role.
"As part of his training, King has already been introduced to patrols but as time goes by he will slowly be introduced to working at night and in busier situations."
When ready and fully operational, King will be required to deal with plenty of forms of public order in some of the most demanding situations from crowd control outside a busy nightclub to premiership football duties.
King will take the operational name Shoeburyness which is the former operational name of retired police horse Bella.
Bella was retired from Essex Police when the problems with her foot began having an effect on the way she patrolled.
Sgt Downes said: "Bella remains the property of Essex Police Authority but has gone to live with a lady in Manningtree on permanent full time loan.
"The lady was fully vetted by Essex Police and we visit Bella regularly to see how she is doing.
"Bella is no longer ridden but is enjoying a relaxed life with a herd of horses."
"Whilst Essex Police must maintain an optimum number of horses to deliver our operational capability, we will always put the welfare of the animals at the forefront of our considerations.
"King will be a huge asset to the policing of Essex and we will continue to ensure that Bella enjoys a happy retirement after a relatively short service in Essex."
News