New horse for promising para-dressage rider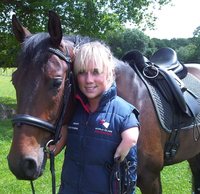 Para-equestrian dressage rider Emma Kent & Janne
New horse for promising para-dressage rider
Para-equestrian dressage rider Emma Kent from Northumberland Heath in Kent is looking forward to putting her new horse, Janne, through his paces.
Emma (23), a successful para-equestrian dressage rider, is on the British Equestrian Federation's UK Sport funded World Class Development Programme - which works with talented riders to maximize their potential and deliver success.
Her new horse, competition name Don Proviano, is a seven year old gelding by Don Primero out of a Rubenstein mare. He is owned by her parents, Mr and Mrs Kent and The Arrow Riding Centre for the Disabled in Dartford, where he is also kept, and is funded through sponsorship.
'Although Janne is quite small and compact, he is extremely responsive and has good hind leg action,' commented Emma. 'He's also very laid back and takes everything in his stride. Although I've only had him for two months, I'm already excited about competing and my aim is to take him out to do some able bodied competitions before taking part in the Hartpury CPEDI*** event.'
Emma suffers from Holt Oram Syndrome which means she has severely shortened upper limbs and rides at Grade III level.
The World Class Programme incorporates the three Olympic sports of dressage, eventing, show jumping and the Paralympic sport of para-equestrian dressage. It comprises the Performance and Development programmes plus the Equine Pathway.
The aim of the Programme is to have in place a sustainable system that can deliver more medals on the international stage now and in the future. The Programme has been funded by the Department for Culture, Media and Sport, through Exchequer and National Lottery funds, via UK Sport since 1998.
Latest News