Mother and daughter found guilty of neglecting horse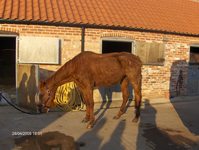 A mother and daughter from Lincoln have been found guilty of neglecting horses after the animals were found in a shockingly poor condition
.

Vennessa Malone, 46, and Charlotte Malone, 22, both of Washingborough Road, Lincoln, appeared before Lincoln Magistrates on Wednesday 6 April and Thursday 7 April 2011 accused of four counts under the Animal Welfare Act 2006 of failing to meet the needs of four horses.

During the two day trial, the court heard that World Horse Welfare's Chief Field Officer David Boyd received a call on Monday 27 April 2009 from a member of the public about the poor condition of four horses at a location in Bardney Road, Washingborough. David attended the site and found the horses in very poor condition with muscle wastage and a heavy louse infestation.

David called for the assistance of the RSPCA, an independent vet and the police. After inspection, the vet advised that the four of them needed to be removed to a place of safety for their future welfare. The police then took the horses into their possession and they were removed to Bransby Home of Rest for Horses and cared for until the court case.

The animals involved were Kiero, a three-year-old bay gelding; Charity, a nine year-old chestnut mare; Sarlo, a 27 year-old piebald mare; and Rocky, a light bay gelding aged 25.

David Boyd said "On arrival the first thing I noticed was that the horses were very underweight and their skin condition was very poor. Their hips, ribs and spines were prominent and I was concerned for their future welfare.

"During the court case it became clear that Mrs Malone and Ms Malone thought that they were caring for the horses correctly and did not need to call a Vet to attend. This very clearly was not correct."

Mrs Malone and Ms Malone were both convicted of four offences of failing to ensure that the needs of the horses for which they were responsible for were met to the extent required by good practice, and are due to be sentenced on Monday 18 April 2011 at Lincoln Magistrates.
News