Meet Jimjam the Ginger Ninja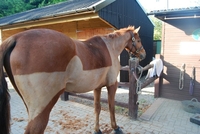 By Louise Harris
Horsemart reader and blogger Louise Harris owns a very special horse – her very own ginger ninja called Jimjam. Here, Jimjam tells us a little bit more about himself.
Bonjour! My name is Jimjam and I am a ginger ninja, or at least that's what my mum calls me.

I first met my mum a few years ago when I was just six. I started life as a racehorse in Dubai. I won a couple of races but I didn't like being out in front all by myself. I prefer to hang back and have a chat with the lads. Needless to say, I was passed on.

I was bought by a polo farm and retrained to play the sport of kings. This is where I met mum. She came into my stable one morning to fetch me and she took one look at my gorgeous gingerness, and I don't mean to big up my little self too much, but she fell in love. Totally head over heels, man, she really fell for me hard! Whoa, I am catnip!

My mum exercised me for the summer, played on me a little bit, she loved me, and fell even more in love with me - if that was even possible. Besotted – totally! At the end of the season, I was put up for sale by the polo stable and my mum was devastated, as she wasn't looking for a full time ninja. But she just couldn't let me go to anyone else. So I moved again, only this time, I knew it would be for life…

So that's Jimjam! Below is his first proper blog post for Horsemart. Keep an eye out for more posts from the ginger ninja – there's plenty more in the pipeline.

Today, I will mainly be wearing a mankini.
If I hear any more Borat comments and wolf whistles, I will have to ninja chop someone.

Today I was clipped. I don't know if you have ever been clipped but whoa - what an experience. They came at me with an electric gadget that looked deadly, it had teeth for god's sake! What were they thinking? I'm happy with my winter teddy bear look - why change it? Why, why, why...

I am now showing a midriff - a look that is unbecoming for a ninja, I feel. My aunty Sam started the job but I think she may have underestimated my ninjaness... I cannot stay still for more than a few seconds, and that thing tickled. I couldn't stop twitching and moving so the lines looked a little wonky.

Then uncle Jamey took over and that meant trouble for me. He's not quite as easy to charm or as deeply under my ninja spell as the ladies. He may be coming around to my charms but he still calls me Victor Meldrew - I don't believe it! I think he was mistaking me trying to kick the flies away for trying to kick him, as if I would do such an awful thing - moi?

Next, they tried to clip my face – MY FACE. I had to object to this, and so I launched myself skyward taking my little aunty Kelly with me. Despite being as light as a feather, when I landed she was still with me - I was shocked enough to stay grounded for a while.

That was when they stapled my face to floor – at least that's what it felt like! They continued to shave my face, and I remained calm for a while but there is only so much a chap can take. I managed to wiggle a little bit of room and aimed for Mars. Nasa would have been proud of my launch. Once again my Aunty Kelly came with me – Geez for one so small, she has quite a grip.

During this kerfuffle I landed on the electricity, which seemed to give them all a shock and they stopped and calmed me for a while. Finally, they finished and let me go back to my room to inspect their work in my mirror. I'm not impressed! To make matters worse Melody (a mare) is wearing the same outfit and Roy cannot contain his laughter, where's the support eh? I may have to give my mum some grief in the school tomorrow...

Poor Jimjam. Here's hoping his next clipping session will be more successful. Keep an eye open for more blog posts from Jimjam on Horsemart in the days to come.

Jimam has his own blog spot at Wonder-horse.co.uk.
Interested in writing your own blog for Horsemart? Find out more about how to get involved by clicking here.

Browse our horses for sale or place an ad on Horsemart now.
News