Man arrested for leaving severed horse's head in associate's truck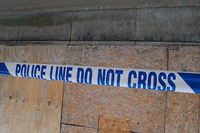 A man has been arrested after he severed a horse's head and left it in the back of an associate's pickup truck.

The police have called it 'a bizarre and senseless killing', however, they also think that it was a 'a gruesome and ill-conceived prank' rather than a true threat along the lines of the infamous horse's head scene in The Godfather movie.

Darrell Mowat, 28, of Niagara Falls, Canada, is alleged to have dismembered a large horse and left the head in the rear of a pickup truck which belonged to his associate.

The horse, is believed to have been a two-year-old Percheron large workhorse called Joe and the Niagara Falls Review reported that it will have endured much pain and suffering during the killing.

Mowat has been charged with breaking, entering and killing cattle, willfully causing unnecessary pain and suffering to an animal.

Niagara Regional Police were called after the remains were spotted in the back of a truck in the Falls on Wednesday morning.

Staff Sgt. Michael Woods told the Review that their investigation led them to a farm in the rural south end of Niagara Falls on Thursday night, where they found the dismembered carcass of a horse.

Mowat had been working as a volunteer farmhand for Wendell Palmer, the owner of Canaan Farm, who said it was his horse that was killed.

'I was shocked. I worked with him all day Tuesday and there wasn't even a hint,' Palmer, whose farm has about 20 horses, told the Review.

Woods said the incident is one of the most bizarre he's seen in 23 years as a police officer.
'It's definitely an unusual and disturbing incident,' he said.

'From our perspective, it's a criminal offence. We're not taking it as a joke,' he said.

The incident has been likened to a scene in the 1972 movie The Godfather, when Jack Woltz wakes up to find the severed head of his prized racehorse in his bed.

However, Woods said there is nothing to indicate this was a threat or is linked to organized crime.

'The investigating detectives are still attempting to determine the mind set and motives of the accused,' Woods told the Review.

Mowat is in police custody and is expected to make a video appearance in court on Wednesday morning.

Mowat's father Joel Mowat described his son as troubled and said he's concerned for his son's well-being.

'I'm going to do what I can as a parent and hope everything works out.' he told the Review.
Police say the investigation is still ongoing. Anyone with information is asked to call 905-688-4111.

Picture: Jayneandd

Source: Daily Mail

Browse horses for sale or place an ad on Horsemart now.
News