MAKING A SPLASH IN EVENTING!
News
•
Thursday 12 April 2012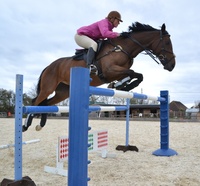 Golly Galoshes the original versatile equine gaiter for horses are proud to announce an exciting sponsorship deal with talented eventing star Victoria Bax
Golly Galoshes are waterproof and breathable gaiters, designed to keep your horses' bandages and boots clean, dry and the horse comfortable, whether you are going cross-country, show-jumping, schooling on the flat or hacking.
Victoria, who has competed at CIC international level, is also rapidly making a name for herself for her ability to retrain racehorses and transform them into model event horses and as she explains, Golly Galoshes are ideal for busy riders:"With so many horses in work, Golly Galoshes have certainly saved my washing machine from the normal constant stream of boots and bandages! They are lightweight, breathable and waterproof and have already become an essential bit of kit, which we really couldn't live without now"
Jean Hammond creator and owner of Golly Galoshes is equally thrilled with the relationship: "Having previously evented myself, I appreciate the demands that the sport puts on tack and equipment, so Golly Galoshes have been designed with this in mind, using only the very best quality materials and superior production. We are thrilled to have Victoria on board and as the first member of 'Team Golly Galoshes' we look forward to working with such a fantastic ambassador for our brand"
Golly Galoshes: Proud to be British and proud to be supporting British talent.
www.gollygaloshes.com 01465 861 274

Browse our horses for sale or place an ad on Horsemart now.
News