Linda Parelli & Lauren Barwick's West point Dies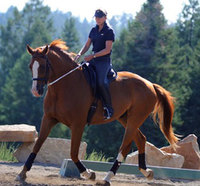 Linda's super horse West Point was involved in a tragic accident on Wednesday, November 16 and unfortunately passed away. We all know how difficult it is to lose a partner, equine or otherwise. All of us at Parelli are touched by the outpouring of sympathy surrounding this tragedy, and we truly appreciate the Parelli community coming together to support Linda during this difficult time.
West Point was a truly magnificent horse who radiated presence and charisma wherever he went. He came to Linda through Lauren Barwick, 4-Star Parelli Professional and Paralympic dressage rider. Lauren found him when looking for her next competition horse, but didn't realize at the time how "heavy" his baggage was. West Point was a well-bred and talented dressage horse who was pushed hard in training and competition, which resulted in serious confidence issues.
Lauren and other mastery students worked hard to put a solid foundation on him, and Linda came in for Level 4 to help him with his issues through the Game of Contact. They did so well together that Lauren offered West Point to Linda. Since then, Linda and West Point developed an incredible bond and advanced well into the Game of Contact.
We are all sad to have to say goodbye to such a promising partner, but his legacy lives on in the countless horses and humans who will benefit from what he taught Linda. Rest in peace, West Point.
Learn more about The worlds #1 Training Education Program
Latest News