Jimjam the Ginger Ninja: Dreadlocks and rosettes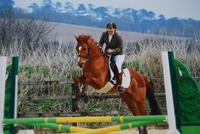 Louise Harris
Horsemart reader and blogger Louise Harris owns a very special horse – her very own ginger ninja called Jimjam. This is the third instalment of Jimjam's blog. For his first, read
Meet Jimjam the Ginger Ninja
.
The day started in quite an unusual fashion. My mum is normally up early to be with me while I have my breakfast - some chaff, some coconut, some grains and some vitamins, since you asked. Anyway, this particular Sunday morning, my mum was here a good half an hour before breakfast, so I was already slightly suspicious. Then, Aunty Lucy turned up, so both mine and Roy's minds were working overtime...
Aunty Lucy began by plaiting Roy's mane. Yes, you read correctly, PLAITING! He's a boy, for crying out loud! We don't do plaits - they're for mares. I tried to hide a snigger.
My mum had to help as Roy was trying his best to avoid having his forelock done with a very passable impression of a giraffe. In fact, he couldn't have looked more giraffe like if he had cantered awkwardly across an African plain. Even with the mounting block Aunty Lucy was having trouble with him, so mum held him and tried to cajole him into having them done. It sort of worked and eventually, he was plaited and pretty – ha ha ha.
I was still trying to hide the fact I was smirking when Aunty Lucy brought the mounting block over to me. OMG, was she serious? She wanted to plait me too! I'm a boy! I resisted by knocking her off the steps, again and again and again. It was very funny. Then my mum came over and held my head, can you believe the treachery? My own mum! We argued about it for a while, and then we settled on the fact that if they were called dreadlocks and not plaits, I wouldn't mind.
Mum and Aunty Lucy changed into some spanking white jodhpurs and jackets and then went off to get the trailer. They hitched the trailer and put Roy and me in our travel rugs and boots and loaded us up.
We didn't travel very far and as we arrived I sensed excitement around me. We were unloaded and tied up to the trailer, I looked around and saw lots of other dudes – some who looked even sillier than Roy and I did. We were tacked up and off we went.
The first class we entered seemed a bit pointless to me, we were asked to walk, trot and canter in a circle. Now being eight-years-old I've been doing all of these things for quite a while so it was a shock to the system and a slight dent to my pride when I didn't win, in fact I wasn't even placed. Neither was Roy though, so that was some consolation. My mum mumbled something about striking off on the right leg and maybe refusing the exceptionally small jump three times – picky, very picky...
Next, we headed to the Clear Round Class, and prior to my refusal to jump the miniscule jump in the previous class, I think my mum had big hopes for me. I have to admit I felt a little bit ashamed of my little ginger self for letting my mum down so I really tried hard at this class. Luckily for me, Uncle Jamey was there to give me advice and confidence, which really helped. We didn't go clear first time around but we did on our second attempt and Mum and I won our first ever rosette together – we were so pleased. What a team. Our elation was made even better when Aunty Lucy and Roy went clear too. What a great morning. Dad got some cracking shots of us jumping too, which I'll ask mum to upload, as I find that sort of thing a bit difficult, not having opposable thumbs. That would look freaky!
We headed back to base camp, otherwise known as our trailer. We were untacked and allowed to graze for a while, as Aunty Lucy, Uncle Jamey, mum and dad had a picnic in the trailer. It looked like a posh picnic - they had Aunty Lucy's home-made cakes and salad servers and everything. No stale sarnies for our team!
After lunch, I thought we would be loaded up and head home, but no, it seems that mum wanted to build on our earlier success and we headed back to the jumping ring. This time we had entered the novice jumping - OMG a proper competition. And to make matters worse the jumps were higher. Summoning all my ninja energy, I entered the ring and got into quite a rhythm. I actually enjoyed myself and we only had 12 faults – we were really chuffed and with that – and we came 4th. We had our second ever rosette. Roy won another one too so we all went home pretty pleased with our little team. When we got back we were treated to a hero's welcome by Aunty Kelly and Aunty Katie, which included lots of hugs – even though I don't like them, and supper – which I do like!
Bonjour! My name is Jimjam and I am a ginger ninja, or at least that's what my mum calls me.
I first met my mum a few years ago when I was just six. I started life as a racehorse in Dubai. I won a couple of races but I didn't like being out in front all by myself. I prefer to hang back and have a chat with the lads. Needless to say, I was passed on.
I was bought by a polo farm and retrained to play the sport of kings. This is where I met mum. She came into my stable one morning to fetch me and she took one look at my gorgeous gingerness, and I don't mean to big up my little self too much, but she fell in love. Totally head over heels, man, she really fell for me hard! Whoa, I am catnip!
My mum exercised me for the summer, played on me a little bit, she loved me, and fell even more in love with me - if that was even possible. Besotted – totally! At the end of the season, I was put up for sale by the polo stable and my mum was devastated, as she wasn't looking for a full time ninja. But she just couldn't let me go to anyone else. So I moved again, only this time, I knew it would be for life…
Interested in writing your own blog for Horsemart? Find out more about how to get involved by clicking
here
.
News