Jean and Annie Take Pleasure Ride Honours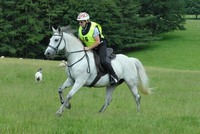 Jean Collins and her 13-year-old pure bred Connemara, Ansbacher were delighted to capture the 2009 Endurance GB KBIS British Equestrian Insurance Pleasure Ride Trophy.
Based in Derbyshire, Jean has owned Annie for nearly five years and bought her with the specific aim of taking part in endurance rides. Having competed in competitive events for a number of years, Jean decided, because of her advancing years, to have a season of pleasure rides even though these have to be ridden between 8kph and 12kph.
This great partnership completed a massive 1014kms throughout 2009 to take the KBIS Pleasure Ride Trophy and Jean says the feeding plan developed by TopSpec has played a major part in their success.
Explains Jean: "Annie has been in great form and is a picture of health. The pleasure rides alongside competitive rides are organised by Endurance GB and the British Horse Society.
"They are a wonderful way to encourage riders in to the sport of endurance or provide a less stressful alternative and are all 20 miles or less.
"Winning the Endurance GB KBIS Pleasure Ride Trophy was a great way to end the season especially as it wasn't until the awards' evening that it was announced who had won.
"Annie is in wonderful condition and without doubt the feeding plan developed by TopSpec works brilliantly.
"She is fed TopSpec Comprehensive Feed Balancer and TopSpec CoolCondition Cubes all year round and then when she is competing this is topped up with Super Conditioning Flakes which I think give her extra staying power.
"Maintaining fitness without fatness for a native pony is crucial so feeding has to be correct.
"It was such a thrill to win the award. We have both thoroughly enjoyed the pleasure rides, you meet some wonderful people and I would encourage everyone to have a go."
News