Injured horse rider takes case to Court of Appeal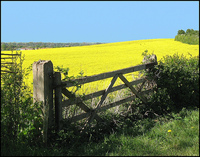 A woman who was stamped on by a horse and ended up having 20 operations to rebuild her face, is taking her case to the Court of Appeal.
Kara Goldsmith, 39, suffered devastating facial injuries whilst "test driving" a horse and is now suing. The court proceedings will be seen as a test case of equestrians.
According to
The Northern Echo
, the mother of two, from Hallgarth, Consett, County Durham, had her case against the animal's keeper rejected last year by a County Court judge. The judge ruled that riders assume the risk of injury when they mount a horse.
At the Appeals Court she is now arguing that the judge's approach has left riders with too little legal protection.
Mrs Goldsmith's barrister, Richard Stead, told the paper that she was an experienced rider before she was thrown from nine-year-old gelding Red. The horse reared and bucked, throwing her to the ground, before it stamped on her face, during the incident in Stanley, County Durham, in 2008.
He also said that Mrs Goldsmith was trying the horse, which was being given away for free after his previous owner fell from his back.
Mr Stead said that she has undergone 20 operations to rebuild her face and that she still suffes persistent pain.
She is suing former pharmaceutical company boss Mr Patchcott, who is the owner of Red, claiming damages for her injuries and loss of earnings.
At Newcastle County Court, Judge Christopher Walton ruled she had assumed the risk when she chose to ride Red.
Mr Stead argued that Mr Patchcott knew that Red's previous owner was getting rid of him after a fall and should have warned her the horse was tricky to control.
Benjamin Browne QC, for Mr Patchcott, said: "Neither party contended that the horse had a known propensity to buck violently. Mrs Goldsmith consented to the risk that the horse could buck.
Given that the behaviour of horses is unpredictable, it is submitted that the County Court judge's approach was correct.
Picture:
Brian
News