Human horse foot shoes selling at Cheltenham Festival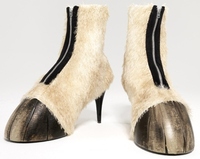 Some interesting rider clothing has been on sale at the Cheltenham Festival this year, with these unique horse foot shoes drawing great interest.
The boots, made with real horse hair, retail at £1,300 and come in knee and ankle lengths.
Commissioned to mark the 100th anniversary of the Cheltenham Festival, these 'Horseshoes for Humans' are made with a carbon fibre hoof and are stitched with about 5,000 horse hairs.

A spokesperson for Betfair, which commissioned the rider clothing items, said: "As one of the most prestigious events in the horse racing calendar we wanted to celebrate the centenary of Cheltenham in style.
"We're upping the fashion – and betting – stakes this festival. Not only will our punters win bigger with Betfair, but they'll also be a shoe-in for best dressed on course."
News