Horses for sale - No full TBs please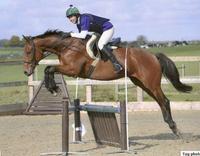 Horsemart reader and blogger Nicola Strong writes about thoroughbred horses and their bad reputation.

How many times have you seen a 'wanted' advert that says 'no full TBs please?' Traditionally, TBs (thoroughbreds) have a reputation for being flighty, spooky and often a handful, but for many this is part of their appeal. I suppose in essence they are the Marmite of the horse world! Personally, I've always loved TBs and buying an ex racer was a dream come true.

It's true to say that yes he is flighty, spooky and a handful at times, but he has the most wonderful loving nature, a huge heart, and character in bucket loads. As an advocate of TBs and in particular ex racers, I am so pleased to see more and more eventers turning to TBs in recognition of their fantastic athleticism, particularly across country.

Sharon Brown of Witshire is a TB enthusiast, and helps to give ex racehorses a new lease of life. She says of the breed; "They are very intelligent, making them quick to learn, well mannered, have endless power and energy, sensitive and want to please."

'Citrus Chief' came to her as a 4 year old, having struck into a tendon while racing. Following 6 months box rest, and some further treatment for a sore back, he then went on to compete successfully in everything from showing to dressage, showjumping and cross country with plenty of ribbons and cups for his efforts.

'So Ecstatic' is another TB Sharon heard of through a racing contact. He was also a 4 year old, and was facing an uncertain future, so Sharon was asked if she could offer him a reprieve. She recalls; "I had too many at this point but couldn't say no. I contacted the local eventer, knowing they like 4yr olds to turn into eventers, hoping they would be interested. They were and after riding him for a couple of weeks to find out that he was an ultra sensitive character and a great mover, so off he went. A couple of years later i found he was now with a dressage rider winning his way up each level being a highly rated, up and coming 6yr old and up for sale for £12000!"

That's a fantastic example for me, as TBs are usually less associated with dressage - a sport dominated by big moving warm bloods. Many feel TBs can't do dressage because they don't have the mentality for such a contained and disciplined sport, and this proves it is possible. My own TB, a 17h gelding who raced until he was 7, has also started a new career in dressage, coming 3rd in both his first Prelim and Novice tests. As for the jumping, I can also honestly say there is nothing more exhilarating than riding him round an XC course and feeling that he has the power to fly a 3'0" fence out of his stride effortlessly.

The TB by nature is an athlete, and needs to be kept active both physically and mentally. Sharon advises; "Don't let them become mentally bored, constantly ask small questions/tasks of them quickly moving onto the next once they have understood each one. Let them enjoy safe long canters, remembering they are bred to run as fast as they can."

In some cases TBs have been written off as dangerous, or labelled a problem horse, but they are often just misunderstood. Sharon points out that they are sensitive creatures, and if we learn to listen and give the horse what it needs, any TB can be a pleasure.

The TB will never be everyone's cup of tea, and for the most part are too highly strung and complex for the novice rider, but given the right partnership, I think you would go a long way to find a more honest, genuine, loving and able breed of horse. For me the TB has the X Factor.

Horsemart reader and blogger Nicola Strong has been riding for 23 years and is taking her first steps into the world of British Eventing and British Showjumping with her main horse Willo (Caherpuca Star) and is supported all the way by trainer and sponsor Sharon Kilminster. She has her own blog at www.headstrongequestrian.com.
News