Horse safety advice - safety first!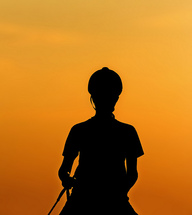 Horsemart reader and blogger Nicola Strong writes about how to stay safe whilst riding your horse.
We all know that every time we get on a horse we are taking a risk. In fact come to think of it every time we lead one in from the field, pick out feet etc we are at risk, because horses are animals with their own minds and as such are unpredictable. I know that a few years back it was unusual for people to wear body protectors, but now it is much more commonplace - compulsory on the cross country course yes, but even out hacking and schooling it seems to be an increasingly common sight. Not only that but they are often now coupled with air jackets for increased safety in the event of a fall.
The topic of hats too has become controversial lately with the talk of making proper riding helmets compulsory for dressage riders instead of toppers. Again, I know this is down to personal opinion and the purists will always call for traditional dressage wear, but I can't help but think that safety has to come first. It actually always puts me off to see a horse advertised for sale when the rider is wearing no hat at all, not least because it sets a bad example to younger riders.
There are very stringent rules with regards to the level of protection that should be offered by our hats and body protectors when we compete at Eventing, for instance, in order to ensure we have the best possible chance in an accident. What they can't tell however, is if that helmet or body protector is in sound condition. The 2nd hand market is excellent for buying equestrian gear, but buying used safety gear can be a risky business. What may seem to be perfectly fine to the naked eye, could actually be fundamentally impaired or damaged on the inside. Whilst saving you money on what the new price would be, I personally don't think you can put a price on safety.
I can't replace my head or my body (much as I'd like to sometimes!) so I'd like to look after them!
As a general rule, it is advised that every time a riding hat receives impact of any kind, it should be replaced, because even when it may look undamaged, there could be a crack or other kind of compromise to the shell. Not only that, but Kitemark also advise to replace an undamaged hat routinely. They say; "The protection offered by any riding hat diminishes over time as the padding inside becomes compressed and so any riding hat should routinely be replaced every 3-4 years even if there are no visible signs of damage."
In the same way, a body protector can be subject to shifts or changes to the make-up of the shell or foam that is not visible to the eye, so any impact or deterioration over time can impair its ability to do the job. Again it is advised that they are changed routinely every 3 years or so, or if they receive any kind of substantial impact.
Choosing the body protector or helmet is a whole subject in itself, and usually dictated by the rules and regulations of the discipline you are taking part in. Regardless, your choice of new or second hand could be crucial, and whilst I'm all for a bargain, buying a used hat or body protector could prove to be a real false economy. Even if it states that it has never been worn, you have no proof that it hasn't been dropped, and the only way you will find out for sure, is in the unfortunate event of an accident. Ask yourself this; do I really want to take that risk?
Horsemart reader and blogger Nicola Strong has been riding for 23 years and is taking her first steps into the world of British Eventing and British Showjumping with her main horse Willo (Caherpuca Star) and is supported all the way by trainer and sponsor Sharon Kilminster. She has her own blog at www.headstrongequestrian.com.
News