Horse dealers from Devon found guilty of fraud
News
•
Wednesday 25 September 2013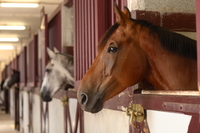 A pair of horse dealers from Devon have been found guilty of fraud by misleading customers after a five day trial at Plymouth Crown Court.
The pair were the directors of Quarrystone Stud Limited, which is based in Loddiswell, near Kingsbridge.
Patsy Cheney, 47, and Brian William Rendle, 72, had denied the charges, which were brought by Devon and Somerset Trading Standards Service.
The jury heard how they had lied about the age and temperament of the horses they sold at horse sales and at their stables. They were also reported to have supplied a horse that didn't match the one in the passport.
Rendle and Cheney had previously pleaded guilty to an offence regarding the possession of unauthorised veterinary medicinal products.
Trading Standards Officers visited the stables under a warrant as the result of complaints that they had received. When at the stables they discovered a large quantity of Horse Passports.
The passports and application forms were then examined, and it was discovered that one particular application form contained information on one pony that bore a striking resemblance to another pony on a different passport.
A previous owner of the horse had owned it for 17 years under the name "Darcy Starlet". Darcy had been kept for breeding only and was never ridden. The owner then sold her for £100 after she developed a breathing problem.
The same horse was then sold by Quarrystone under the new name "Delightful Dottie" with a brand new passport for £670. She was also advertised as "quiet to ride, excellent in traffic" and "warranted sound".
According to This is South Devon, the horse was bought for young children, for which she was extremely unsuitable. She would also not accept a bit and still has a breathing problem.
Another horse that was sold by Quarrystone was sold as an 11-year-old for £1,600. However, after its teeth were examined, it was concluded that the animal was considerably older, with experts saying it was probably around 20-years-old at the time of the sale.
And, a third horse was sold for £2,000 with a passport that belonged to another animal.
There was a fourth horse mentioned in the court case, however, the defendants were acquitted on charges that related to this animal.
Councillor Roger Croad, Devon County Council's Cabinet Member with responsibility for the Trading Standards service, was reported by This is South Devon as saying: "Misleading the public about the age and history of horses in order to make a quick buck is bad enough, but misleading them with regards the temperament and riding history of an animal is downright dangerous."
The Fraud Act charges carry a maximum penalty on indictment of a fine and/or imprisonment for 10 years.
Sentencing was adjourned to a later date.
Latest News