Hickstead jumps into 21st century with radical redevelopment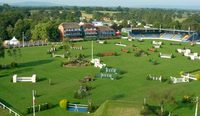 Facilities at Hickstead have been upgraded following an ambitious £500,000 redevelopment plan.
The All England Jumping Course at Hickstead has gone through a £500,000 redevelopment for 2011 – reaffirming its position as one of the world's premier equestrian venues and enabling the Bunn Family to add a new National fixture to the show jumping calendar.

The Sports Turf Research Institute began work on the International Arena in August 2010, replacing the existing surface with a state-of-the-art drainage system and newly-seeded turf. The new grass surface is designed to provide superb going even in periods of heavy rain or dry weather, as well as offering more consistency and excellent traction and support.

This work has allowed an additional show to be added to Hickstead's schedule. The All England Jumping Championships will be held from the 8th to the 11th of September, with height classes starting from 1m, amateur finals at both 1.10m and 1.20m level, age classes for 4yo's, 5yo's, and 6 & 7yo's, plus a 7 & 8yo HOYS qualifier. A Grand Prix with a £6,000 prize fund is also planned.

"Before the extensive ground works, we wouldn't have risked running another show in September," explains Lizzie Bunn, Hickstead director. "These changes have allowed us to expand our programme, and we believe the All England Jumping Championships will form a valuable addition to the showjumping calendar."

The new show will cater for riders of all levels, as well as supporting young horse classes.

"All classes will culminate in a final, with the top 30 horses in each section going forward. This will give many more riders the chance to ride in the prestigious International Arena at Hickstead," Lizzie adds.

A full entertainment programme is also planned for the duration of the show.

2011 dates

British Jumping Derby, 22-26 June
Longines Royal International Horse Show, 26-31 July
Hurstpierpoint National Schools and Pony Club Jumping Championships, 4 August
All England Jumping Championships, 8-11 September

Notes - the redevelopment of the International Arena

• The renovation was managed by the Sports Turf Research Institute (STRI), which also oversaw the redevelopment of the Royal Dublin Society's showground.

• Work began at Hickstead on 8th August, immediately after the Longines Royal International Horse Show, when the existing turf surface was stripped and the topsoil removed. The arena surface was regraded and a gravel carpet put in. This was topped by a blinding layer of coarse sand and topsoil was added, with Hickstead's clay soil mixed with sand to make it more loamy.

• Grass seed was planted in early September, then covered with a germination sheet and left to grow. The grass has been fertilised and will be regularly overseeded from this Spring until the British Jumping Derby meeting in June.

• The permanent obstacles, including the Derby Bank, remain unchanged, and the arena retains its overall gradient (which drops 2m from corner to corner).
News