Here is our next Handy Hint - How to make a Poultice Boot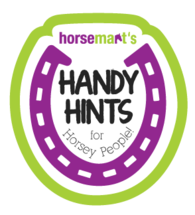 Welcome to Horsemart's Hints for Horsey People.
Over the coming weeks we are going to be showing you some handy tips when it comes to looking after your horse. We are all about saving money and doing things effectively and here at Horsemart we want to show you how to do things the easy way.
When owning or loaning a horse, it can be pretty expensive so we are going to show you how to do things where you can save yourself some money.
Video 6 - Make your own Poultice Boot
Poulticing is a really useful skill to have because often and in fact all the farrier will be asking you to apply one to the foot. It is really important not to poultice over any joint such as the knee or the hook unless the vet has told you otherwise.
There are several things that you need to have to apply a poultice. You need to have some warm water and a bowl, some veterinary gamgie, some gaffa tape and some animalintex. You can use different types of poulticing such as Iodine and sugar or certain kaolin clays.
Firstly, cut a piece of animalintex to the size that you require using the scissors. There's a shiny side to lint and there's a cotton wool side. You really don't want to be touching this side too much because this has got the withdrawing properties, and you don't want to rub those off. Cut a square into the animalintex, you want to cut it the right size depending the on the abscess whether you got a bruise so you might want to cut it larger which cover the whole sole. You can also use this dry, for certain things.

Tip some boiling water over the top of the animalintex just so you can see that's it saturated.
With the gaffa tape you are going to make a boot. Tear off some Gaco tape and tape it again a wall, make the lengths around the same size so you have a sheet of tape. With the Scissors cut a 'V' in each side
Drain the water out of the Animalinttex and place onto the foot of the horse.
If the horse has had it shoe removed, the horse may have an abscess and it could be sore so it's sometimes a good idea just to put a little bit gamgie and rap around the horses foot for more protection

When placing the animalintex onto the horses foot, make sure that there is nothing under the foot, it's a good idea to pick out their feet before you do this. Drain out the excess water from the pad. Wrap the gamgie around the foot and use some wrap to tape it all together. This wrap works well as its sticky so it will keep it all together
One you have applied the wrap you want to get your gappa tape shoe you made eariler and attach this onto the foot. You may want to add some more tape to secure the shoe even more as the toe may be exposed.

Latest News