GOLDEN CROSS Affiliated SHOW JUMPING DERBY 5th/6th MAY 2012.
News
•
Thursday 12 April 2012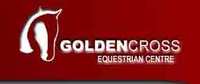 All roads should lead to Golden Cross Equestrian Centre for the weekend of 5th/6TH h May 2012 for the ever popular Affiliated 'Derby Show'. The show now boasts a prize fund approaching £4000.00 and should attract riders from all over the South East. This is now one of the first shows of the season to run on grass as opposed to the now fashionable all weather surfaces and will give competitors an opportunity to get out before the county show circuit and Hickstead.
The Saturday schedule kicks off with a 95cm Open single phase class to get the show going on time. This is followed by the first of the derby classes, The Liston Equestrian Small Derby for which course builders Keith Bristow and John Farrell are sure to have a few surprises up there sleeves. Following on from this is a scope 1.05 qualifier, Newcomers , 1.15m members cup sponsored by GA Commercials , Foxhunter/1.20m and finally a National 1.30m Qualifier which is sponsored by BS Area 46 which is the first of four qualifiers in the region to decide the Sussex Open Champion for 2012. This concludes the day in the Chalvington ring.
Sunday's classes include, scope qualifiers, The Milbourne Equine 1.05m Open Derby, The Sussex Haylage 1.15m Open Derby ,The Horse and HoundFoxhunter/1.20m,Sponsored by D and D Construction, which will be used by many as the warm up for the final class, being the Clip Clop Traders Eventers Challenge . This class historically ends the show and is for 12 invited Event riders from the home counties pitting their skills against 12 invited Show Jumpers all of which have to be based in the home counties. This class is very similar to the Hickstead version in which, competitors jump a mixture of cross country fences and show jumps, with 5 seconds added for a fence down. Now in its fifteenth year this class has only produced 9 clear rounds.International Event riders invited to the final will include past winners Emily Baldwin , Brook Staples alongside Sam Penn, Lisa Pilbeam, Gemma Tattersall , Sam Jennings and Anna Hilton amongst others., they will be probably challenged by last years winner Lisa Long who gained her first win in this class for the Showjumpers.
*As a special incentive this year in a bid to improve entries and BS membership the BS Tickets to ride will be available at no charge to competitors instead of the normal £6 per class. This will give unregistered combinations an opportunity to compete alongside registered members and give them a taster of the Affiliated circuit. The show is open to the public, refreshments and tradestands are available and the full schedule and online entry facility can be found on www.goldencrossec.co.uk
As usual all the rings will be watered if necessary and aerated if the ground is hard. Courses this year will be built by Keith Bristow and John Farrell.
News