Gobi March in aid of Shire Horses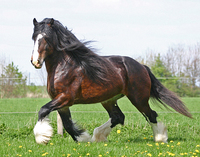 Stylist to the stars Hannah Sandling is taking part in the Great feat "Gobi March 2009." Many competitors will endure the trek, which crosses the Gobi desert throughout theblazing heat and sandstorms in aid of their chosen charity.The Shire Horse Society is honoured to have been chosen by Hannah, who wholeheartedly supports the work the charity carries out in supporting the Breed.

The Gobi March is part of the 4 Deserts, a unique worldwide endurance series, with nothing else like it! Each competitor must also carry with them, their own food and clothing in a backpack. The only assistance provided will be plenty of water, tents and medical assistance. The week-long trek begins June 14th, enduring 6 stages, crossing
250km of the Gobi Desert.
The Shire Horse Society was established in 1878 to promote the Old English Breed of Cart Horse. The last quarter-century has seen the regeneration of the Shire Horse. In their heyday, there was a heavy horse population of well over a million animals, but by the late 1950s and early 1960s this had dwindled to a few thousand. The Shire Horse Society, working with a growing number of breeders and enthusiasts, has gradually increased this population.
Latest News