Francis Whittingdon fills up with the right fuel at Badminton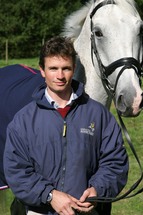 Francis In Top 20 At Badminton
Eventer Francis Whittington finished a respectable 15th in the final placings at this year's Badminton, with a corking cross-country phase and solid show-jumping finish on Sir Percival III, his impressive bay gelding. Francis was delighted with Percy's performance, crediting his diet as being key to his success:
"Percy performed the best he has ever done, he looks and feels on top form and just gets better and better on his Saracen Horse Feeds diet. During the cross country phase, he maintained good energy levels right to the end, with still more in the tank for the show-jumping round, where again he excelled."
Sir Percival III is fed Re-Leve – the ideal fuel for top competition horses across all disciplines.
Re-Leve offers controlled energy through Saracen's Super Fibre Technology rather than carbohydrates and sugars such as cereals and molasses. By providing the equine athlete with highly fermentable fibre sources and high oils levels you can reduce the reliance of starch in the diet. This in turn helps avoid the metabolic consequences (tying up, stress, fizzy temperament, colic) associated with feeding high levels of starch once used for the traditional diet of a performance horse. Re-Leve gives controlled energy release and optimised stamina as well as outstanding coat condition.
Fully fortified with a unique mineral package from KER - Bioplex Minerals, E-Max Ester (natural Vitamin E) and specific yeast inclusion to aid gut mobility, this performance feed delivers palatability backed by extensive scientific research, so whether your discipline or level – Re-Leve offers an all encompassing diet!
News