Feature - Sue Carson Saddles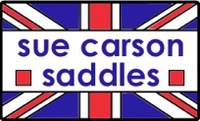 Sue Carson Saddles have been manufacturing, retailing and fitting top quality, made to measure saddles using top quality leathers in the UK and Ireland for over 20 years. They pride thmrselves on our service and only supply our saddles through our team of dedicated, countrywide saddle fitters. Their independent distributors are all accomplished and experienced riders and fitters. Whatever your discipline and level, Sue Carson Saddles can make the perfect saddle for you and your horse and support this on an ongoing basis.
We recently spoke to Pam from Sue Carson Saddles about the importance of getting a saddle fitted properly. Here is what she said.
Why is it so important to get your saddle correctly fitted?
A correctly fitting saddle is essential to ensure that your horse has maximum comfort, freedom to move and also the opportunity to develop the correct muscles. You need the saddle to suit your style of riding and your body shape and size (long or short legs etc) to ensure you are in true balance and not sitting 'in the horse's way', so enabling your horse to perform to the best of his ability.
If I was buying a second hand saddle, what would I need to look out for?
The first thing you need to ensure is that the tree is not broken. To test the tree you need to try to bend the saddle from front to back; you should expect just a small amount of 'give'. You also need to check the head of the tree by running your fingers round the inside of the head and also try to flex the front of the saddle in and out; there should be no give when you do that. You also need to look at the stitching on the whole saddle, but especially on the girth straps.
Next you need to be certain that the tree is the correct width for the horse; if it is, the tree points should run parallel to the horses shoulders.
When on the horse and girthed up, a dressage saddle should sit level on the horse's back when it is in trot and a jump saddle should sit level when the horse is in canter.
How often should I get my saddle checked?
​You should get your saddle checked every three to six months depending on how the horse changes shape and the work schedule of the horse. In my experience, horses keep changing shape at all ages. At one point, my 18 year old grand prix dressage horse changed shape 1.5 fits in the space of 8 weeks!
I recommend you measure your horse every month with a flexi rule, which should be positioned two fingers behind the shoulder blade, then again where the middle of the saddle would be and finally just before the back of the saddle, so you have three measurements. I would also take a weigh tape measurement, then you will know if your horse has changed and hence when to call the saddle fitter.
What is the process like of getting your saddle fitted?
​The saddle fitter needs a stable and a good quality surface to see you ride in order to be able to do a good job. Be sure you are correctly dressed in riding clothes.
You should expect your saddle fitter to measure your horse and then watch him move in hand. Make sure you take a full medical history for both you and your horse, so that if there are any issues that need to be taken into account, they can be discussed.
If you are buying a new saddle, I would then sit you on eight, maybe 10 saddles on a saddle stand to come down to a short list of two or three for you to ride on. You will need to ride the horse to the level at which he is training/competing so that both you and your saddle fitter are happy that the saddle you like is right for both of you. If you have a trainer, back person and / or vet involved it, is better if they can be there.
It takes me three hours to carry out an initial saddle fitting and one and a half hours to carry out a second fitting or a refit of an existing saddle.
What could be the implications of having the wrong fitted saddle?
​In simple terms, the horse does not move very well and you do not get a very good performance . It is easy to imagine how uncomfortable a saddle that doesn't fit is likely to be; just think how you would feel trying to go for a run or during an active gym session if you were wearing footwear that didn't fit you properly. Soreness, bruising, stiffness and even secondary muscle or other soft tissue injury due to moving awkwardly whilst trying to somehow avoid the worst of the discomfort. Not what you want to inflict on your horse!
How do you find a good saddle fitter?
​I would find a good saddle fitter by recommendation and start by asking them what experience they have as both a saddle fitter and rider. I feel it is very important your saddle fitter rides competently so they are able to fully understand both your own and your horse's needs​. Don't be shy at asking about their skills and experience so that you are satisfied the service being offered is both competent and will be carried out thoroughly.
For some information please visit www.suecarsonsaddles.co.uk

Latest News