Eventing - A day in the life of an eventer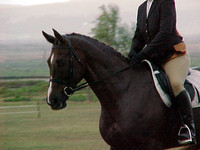 Amateur eventer and showjumper Tor Heard gives a tongue in cheek insight into what constitutes a normal day in the life of a competition rider on event day.

Tor gives a humorous look at a normal day, but in fact she's being rather modest; alongside many previous successes, highlights include very recently winning the Baileys JAS Open final with her superstar horse Tommy!

"Being an event rider has ups and downs. Weeks of preparation, lessons, cross country clinics & gallop work can only prepare you so much, it is all down to the performance on event day that matters. Here is my typical day eventing.
"Wake up at silly o'clock (usually 4-5am, even if dressage isn't till 2pm). Dress in the dark so as not to wake the other half. Return upstairs 3/4 times for forgotten show jacket, starter fee and camera. Finally get on the road.
"Arrive at the yard to find competition horse with stable stain on only white sock, and 1/2 his plaits pulled out. Re-plait and scrub stable stain. Pick out stud holes again and wonder where the plugs have disappeared to. Load trailer and 4x4 with kit. Hitch up trailer with encouraging gestures and shouting. Put travel boots on excited horse, load at 100mph, leaving only 40 minutes behind schedule.
"Decide en-route that I know better than Sat Nav. Miss junction off motorway. Eventually arrive at destination, wave of excitement as the tannoy echoes round the lorry park. Head to secretary's tent to get number. Leave starter fee in the car, have to ask mum to pay. Tack up ready for dressage, determine what mood competition horse is in to estimate warm up needed. Seems relaxed enough, so take time faffing with pre-tied stock to make it look like a self tied stock. Give riding boots a quick wipe with half dried out make up wipe. Mount using side of trailer and jog off towards dressage warm up.

"Try to find own 20x40 space in warm up. Try to keep calm as people cut into my perfect 20m circle practice. Canter feels a bit excited, but no time to correct as the steward is calling my number. Jog to dressage arena, spook at white boards. Stop breathing as the judge beeps her car horn. Try to remember test - downwards transition AT C…or BETWEEN C & M? Oh well, carry on. Wobble down final centre line. Drop hand in half-salute-half-thank-God-that's-over gesture. Walk on long rein back to trailer shaking head, Competition Horse happily poking nose knowing what is coming next.
"Change tack ready for SJ phase. Competition Horse wipes frothy green mouth across show jacket; should have bought spare. Use same half dried make up wipe to smear green froth off jacket. Jog over to SJ warm up and learn course. Jump warm up fences by taking off 10 feet too early. Mow down person on foot adjusting fences. Apologise and quickly get over to SJ ring before they can get back on their feet to yell after me. Remind self where first fence is, pop into canter. Gradually speed up through course, rattle last fence but leave it up. Come out grinning at clear round. Trot back to trailer to avoid person I mowed down.

"Tie up Competition Horse with haynet, go and walk XC course. Run first half due to lack of time. Stop to pant on fence 9, pretend to check my line. Power walk around rest of course. Worry about drop to skinny. Worry more about flapping flags around fence 5. Run through course in my head en-route back to trailer. Tack and boot up, change studs. Pile on cross country colours, body protector, air jacket and number bib.
"Jog over to cross country warm up. Pop a few fences and get told by steward that I don't have my medical arm band on. Jog back to trailer to retrieve, Competition Horse seems to have lost mojo. Finally get called over to start box. Rear in start box. 3, 2, 1, GO. Shoot out at a rate of knots. Fly over first few fences. Spook at flags near fence 5. Try to remember route through combination. Approach drop to skinny, launch off drop and steer to skinny like Mary King. Splash through water complex, get soaked. Jump last fence to cross finish line, knowing another point had landed on my BE card, if nothing else.

"Drag feet back to trailer. Dismount before unclipping air jacket, go off with a bang. Find friendly lorry owning neighbour to use hose as forgotten water. Hose off Competition Horse and leave to dry in the sun. Go to check scores. Appalling dressage, no chance of placing. Went too fast in the xc. Get back to trailer to find mother turned camera off instead of on when trying to record cross country. Oh well. Watch cringe worthy dressage test instead, go home feeling positive and knowing what we have to work on at home. Phone trainer to book a lesson. Go home and enter next event. There's always next time."

To find out more about Tor Heard Eventing please visit http://www.torheardeventing.co.uk/index.html

Picture: Andrea Vallejos
Latest News