Europe says no to the needless abuse of horses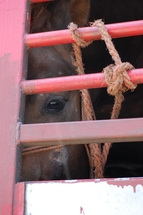 World Horse Welfare and horse lovers across Europe are celebrating a giant step forward in the campaign to end the long-distance transportation of horses to slaughter.
The leading international horse charity, which has a rescue and rehabilitation centre in Somerset, has confirmed that the majority of MEPs across the European Union (EU) have supported Written Declaration 54/2009, calling for a review of the current legislation affecting horses transported across Europe for slaughter.
This milestone has been achieved following tremendous support inall 27 EU countries. This important accomplishment will be presented to the European Commission, which is responsible for drafting amended legislation impacting upon these horses.
This is an astonishing feat – only four other animal welfare Written Declarations have received this much support since July 2005 - and none of these involved horse welfare.
Tabled by MEPs Elizabeth Lynne (UK), Sidonia Jędrzejewska (Poland), Carl Schlyter (Sweden), on behalf of World Horse Welfare, Written Declaration 54/2009 raises serious concerns about the plight of 100,000 horses needlessly transported across Europe in horrific conditions every year. This is in spite of the fact that hundreds of slaughter houses line the transport routes, meaning that a carcase only trade is possible.
World Horse Welfare has been campaigning on this subject for many years, and believes that this Written Declaration will advance the release of a proposal to amend legislation. The charity and its supporters want to see the introduction of a short, finite journey limit for horses travelling to slaughter.
Jo White, Director of Campaigns, comments: "Having witnessed this abuse first-hand, I am absolutely thrilled that so many people have got behind the campaign, we couldn't have done this without them. However this is just one step forward to end the single biggest abuse of horses in Europe, so we must not lose momentum. We need to ensure that pressure is maintained on decision makers to end these cruel and inhumane journeys."
Roly Owers, Chief Executive, says: "I was overwhelmed by the number of people who have supported this issue. Without the tireless campaigning of our supporters, fellow European animal welfare charities and MEPs, the number of signatories may have been much lower. We are grateful to everyone who has taken the time to help and urge them to continue campaigning to end this unnecessary suffering – together we can make a difference."
Long-distance transportation of horses to slaughter across Europe causes stress, injury, extreme exhaustion and dehydration, as horses are often transported for days on end without sufficient rest, food or water.
News