Dead horse found at beauty spot in East Sussex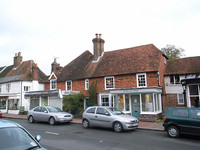 The RSPCA have appealed for information after the remains of a horse were found dumped in a Sussex beauty spot
The RSPCA are appealing for information after the decaying body of a pony was found in a picturesque East Sussex location.

The remains of the gray pony were found by a dog owner on a quiet country lane close to the West Kent border near Wadhurst (pictured). The horse was found outside a house, partially covered by a blue tarpaulin.

The welfare charity are concerned the find could relate to a string of incidents in Kent where dead horses have been left in random rural locations, dating all the way back to September 2010.

Zoe Ballard, an RSPCA animal welfare officer, said: "The horse's bones were very prominent, and it had probably been living in a stable, because it had dirty shavings down one side.
"It was a native type pony, and the body was left in a quiet rural lane, so it might be connected with the dead horses dumped in similar places in Kent."
Anybody with relevant information has been urged to call the RSPCA on 0300 123 4999.
News