David Andrews reveals the genius behind Greenwich's equine surfaces (video)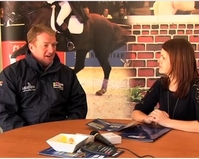 Watch our exclusive video interview with former British showjumper David Andrews whose company Andrews Bowen has designed, manufactured and installed equine surfaces in Greenwich for the London 2012 equestrian events.
David's team was also responsible for creating competition surfaces at Hickstead, which despite heavy downpours in the lead up to the Longines Royal International Horse Show was ready for use.
Although remaining very tight lipped on the surface for the Games, Andrews Bowen tells Nocola Stong why its unique location on a platform required a unique design.
The project in Greenwich contains eight different surfaces including the main arena, gallops, warm up arenas and various crossings and tracks.
Latest News