Could plastic Horseshoes be the future?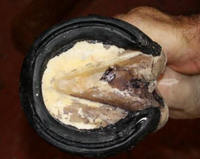 Farriers in Dubai have patented a new type of horse shoe made from a plastic mould.
The new was developed when trying to find a comfortable solution for lame horses with major foot problems. To create the shoe, the horses hoof is placed in a mould that is shaped exactly to the hoof and quick drying plastic is injected into the mould. Once dry, the mould is removed and excess plastic an hoof is filed down.
The creators of the new plastic hoof believe that it will bring much more quality of life to horses who previously struggled to even take a few steps due to their lameness. One horse went from struggling to feed due to the pain to being able to run again.
The developers in Dubai, believe it should not only stop at being a shoe for lame horses. They believe that the shoe could be used on any horse. It was recently trialled and successful on racehorses.
How the plastic horseshoe is fitted
The first racehorse to win a race using the new "Quixshoe"
Latest News