Champions of Racing - Horse & Country TV…. Horse & Country – essential equestrian TV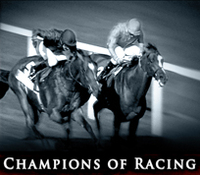 Racing
Champions of Racing - Horse & Country TV…. Horse & Country – essential equestrian TV
New for 2010 – an insight into the rich history of thoroughbred racing with Champions of Racing.
From the producers of the award winning weekly series, Racing World this outstanding documentary showcases the rich history of one of the world's most prestigious sports.
Champions of Racing is a premium 26 part series of half hour programmes that chronicles the sport's greatest moments and of those that have shaped the history of the sport. Profiling the greatest jockeys, the most powerful racing stables and trainers and of course the incredible horses that have become immortalised for their achievements on the track and for taking racing beyond its sphere and into the hearts of the general public.
The documentary features historic races and the key racing events that boast histories rivaled by very few sports. Champions of Racing presents unique stories of triumph, emotion,controversy and glamour in a series that will have Horse & Country viewers glued to the screen – and not just followers of racing.
Two new episodes will be shown back to back every Sunday night starting on Sunday 31st Jan 20.00-21.00. Running over 13 weeks on Horse & Country TV, Sky Channel 280 the episodes will also be aired on Monday and Friday evenings.
TV Guide February 2010
Sunday 31/01/10 – 20.00-21.00 Champions of Racing – Episode 1 and 2
Monday 01/02/10 – 19.00–20.00 Champions of Racing – Episode 1/2
Friday 05/02/10 – 19.00-20.00 Champions of Racing – Episode 1/2
Sunday 07/02/10 – 20.00-21.00 Champions of Racing – Episode 3/4
Monday 08/02/10 – 19.00–20.00 Champions of Racing – Episode 3/4
Friday 12/02/10 – 19.00-20.00 Champions of Racing – Episode 3/4
Sunday 07/02/10 – 20.00-21.00 Champions of Racing – Episode 5/6
Monday 15/02/10 – 19.00–20.00 Champions of Racing – Episode 5/6
Friday 19/02/10 – 19.00-20.00 Champions of Racing – Episode 5/6
Sunday 07/02/10 – 20.00-21.00 Champions of Racing – Episode 7/8
Monday 22/02/10 – 19.00–20.00 Champions of Racing – Episode 7/8
Friday 26/02/10 – 19.00-20.00 Champions of Racing – Episode 7/8
News