Careless driving is taking the joy out of horse riding says survey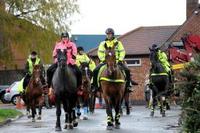 Ninety per cent of regular horse riders feel drivers do not take enough care when passing horses on the road, according to research conducted by Petplan Equine, ahead of Road Safety Week (22-28 November).
The survey of over 1,700 horse owners also found that more than 40% of respondents dislike horse riding on roads because of traffic, with a fifth saying they would like to do more hacking but don't have sufficient access to the countryside.
Statistics released by the THINK! Campaign showed that in 2006, 123 horse riders were injured in road traffic accidents, three of whom were killed and 26 seriously injured. Of the road accidents voluntarily reported to the British Horse Society in the same year, 80 per cent occurred on minor roads.
Head of Petplan Equine, Neil Brettell, commented: "Riding is a wonderful hobby. It is good exercise, gets people out in the fresh air and many riders bond strongly with their horse, which adds to the pleasure of the sport.
"It is a great shame that riders are feeling vulnerable on our roads and we are calling on drivers to take extra care, particularly on some of the more minor country roads, to help ensure horse riders feel relaxed and stay safe."
With winter on the way, the following tips should help out when passing by horses on the roads.
Do
•

Reduce your speed as soon as you see a horse on the road
•

Pass a horse slowly, giving plenty of room
•

Watch out for a rider's arm signals – they may stay in the left lane but be signalling to turn right
•

Treat horses (and other animals) as a potential hazard and be ready to stop
Don't
•

Dazzle a horse or rider with your lights
•

Rev your engine or accelerate rapidly after passing a horse
It's not just drivers who need to be more careful. Nearly 40 per cent of survey respondents felt horse riders should also show more consideration to other road users. In addition, over half of all respondents admitted to using their mobile phone whilst horse riding, with one fifth confessing to texting or tweeting while on horseback.
"Although it is always a good idea to carry a mobile phone with you when out hacking in case you run into difficulties, we strongly urge riders to stop, and ideally dismount, before making a call or texting," Neil Brettell advised.
News