Buying a veteran horse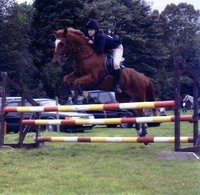 Horsemart reader and blogger Nicola Strong tells you all you need to know about buying veteran horses.
Just like people, as horses get older, they often require more TLC. Traditionally, the word 'veteran' conjures up images of horses with sunken backs, deep hollows above the eyes, and shaggy coats, but in reality a lot more veteran horses are still out and about doing jobs as well as ever and looking great.
The term veteran usually refers to horses 15/16 years and over, and nowadays this can be only middle aged for a horse. To give an example, the evergreen Lenamore ridden by Caroline Powell is still achieving fantastic results aged 19, coming 4th at Burghley **** 3 day event, and 6th at Badminton. Not bad for a veteran eh?

The equestrian market is now full of tailor made feeds and supplements, and is arguably part of the reason our horses are living longer and looking better than ever. It is not uncommon now for horses to be living well into their 30's depending on the lifestyle they've had.
The first horse I owned was in his 30s when he was eventually put to sleep, and whilst he did have treatment for arthritis, he was completely happy and active with no other health complaints until right at the end.
To keep him happy, we had to ensure that he was well rugged up to help him stay warm, and happily he had no trouble eating, gave him cod liver oil to help his joints, and just kept an eye on his weight as he could have a tendency to drop off quite quickly in winter -something common with the older horse.
I also had another 'veteran' called Rocky. I never think of him as a veteran as he never showed any outward signs of being so, acted like a 6 year old, and was every bit as agile as he ever had been. The only issue we ever had was Cushings - sadly another issue associated with the older horse.
He had always been prone to laminitis, but as he grew older, it became more frequent until the vet diagnosed him with Cushings. This wasn't curable, but was treatable, and he was then given daily tablets to help manage the problem.
At 21 we eventually had to have Rocky put to sleep, but when he was not ill, he looked a picture of health, maintaining a remarkable record of never coming away without a red rosette for showjumping in 10 years. He was a golden oldie at its best, and won his last ever class with a double clear in an unbeatable time.

There may have been a time where a 20 year old horse would have been retired, but it is quite conceivable now that the same horse could still be happily competing and showing the youngsters how it's done. I have noticed a slight change in mindset over the years with regards to older horses, and have seen some great older horses taking riders up through the levels and being used as schoolmasters.
No longer does a 20 year old horse have to be put out to grass for retirement, or be considered as over the hill. Even insurers are being kinder to the older horse! If you have an older horse, or are thinking of buying one, you can look to the likes of Lenamore for inspiration.
A happy horse is a healthy horse, and he is living proof that given correct care they can go on and on loving their job and performing to the highest level.

Horsemart reader and blogger Nicola Strong has been riding for 23 years and is taking her first steps into the world of British Eventing and British Showjumping with her main horse Willo (Caherpuca Star) and is supported all the way by trainer and sponsor Sharon Kilminster. She has her own blog at www.headstrongequestrian.com.
Latest News