Buying a horse - to buy, or not to buy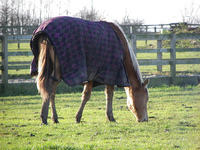 Horsemart reader and blogger Nicola Strong writes about the big decision of whether or not you should buy a horse.
Buying a horse is not only a big commitment, but it also requires a substantial investment for the most part. Unfortunately, it doesn't always work out, no matter how thorough you are with your buying process. Horses are not machines, they are animals, and much of our ability to work together is based on building a partnership with them. Sometimes we just don't click - it happens. But what happens when it's more than that? What happens if we buy a horse and later find that it's not quite what we were led to believe?
If you've bought from a reputable dealer, and you find the horse is not what you were expecting, because they have sold the horse through the course of a business, your purchase will be covered by the Sale of goods act. It means that if the horse is not fit for purpose, and you are unable to reach a satisfactory resolution, the law will be able to offer more protection on the grounds that this was an unfair sale. This isn't always straight forward, and there will be work to do in terms of proving that the horse is not fit for purpose, but it certainly gives you more to go on. In most cases, dealers with a good reputation will want to protect that in any case, and in some cases even offer the option to take the horse back and help you find the right horse.
Buying privately is more of a grey area. Private sales are not covered by the Sale of goods act, but that doesn't mean you're completely on your own. There are still reasonable measures that can be taken if the seller has misrepresented the horse -so for instance that means that if your horse has been described as 'anybody's ride' and it turns out to be dangerous (I have unfortunately been in this position), then the vendor is in breach of the misrepresentation act. If this is the case, you need to make the faults known as soon as physically possible, or it could be claimed that they have happened since the horse was sold. Even so, cases like this are often very hard to prove and enforce - so we come back to the term 'buyer beware.' This means that it is up to the buyer to satisfy himself that what he is buying is acceptable.
In terms of physically being able to do the job, it is again up to the buyer to have the horse vetted. This way, if there is anything not picked up in vetting that should have been, your vet may be held accountable for the oversight. Should the buyer choose not to have the horse vetted, they do so at their own risk.
From my own experience, I have found that it is helpful to have everything in writing. For instance, if you have a record of the horses advert, you have the original description of the horse. This will stand you in good stead if the vendor has misrepresented the horse in any way. Not only that, but if you can, it is also in your interests to have a written checklist which they have signed - this type of contract could be crucial as it could be your key to proving that you had not been made aware of certain factors.
As someone who has been on the receiving end of a dishonest seller, I know only too well how devastating it can be to buy a horse under false pretences. Now my feeling is you can never be too thorough! Not everyone is dishonest, and I've also been extremely lucky with horses of a lifetime. Horse hunting is still my favourite pastime, but I never forget these words - let the buyer beware!
Horsemart reader and blogger Nicola Strong has been riding for 23 years and is taking her first steps into the world of British Eventing and British Showjumping with her main horse Willo (Caherpuca Star) and is supported all the way by trainer and sponsor Sharon Kilminster. She has her own blog at www.headstrongequestrian.com.

Picture: Cathy Singleton
News