Boost winter riding with Cyclo-ssage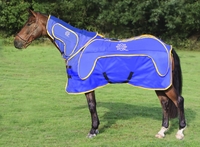 September is upon us which means just one thing - winter's just round the corner. Learn how to enhance winter riding with Cyclo-ssage technology in this guide.
All horse owners will undoubtedly agree with the term, 'not enough hours in the day', particularly during the winter months when nights draw in and daylight hours are scarce. Particularly for working riders, fitting in regular exercise for your horse can become a constant battle and race against time and the fact is horses just don't work like that!
Encourage effective horse training

Given the chance most riders would choose to cut warming up time, spend more time on quality training and aim to keep their horse as relaxed and happy as possible and know thanks to the Cyclo-ssage Pro Equine Massage System – this is a reality!

Using the Pro Equine Massage System for 15 minutes prior to exercise has been shown to reduce warming up time helping riders further their training quickly and effectively without needing to spend hours in the saddle. Yard chores can be carried out during your horse's treatment and horses are fresher, more supple and relaxed in their work.

When used after exercise the Pro Equine Massage System helps reduce lactic acid and cools down the muscles gently, particularly beneficial during cold dark evenings and when horses are going straight back in to the stable.

Regular massage has been shown to reduce the risk of injury and help recovery after intense exercise. In particular the Pro Equine Massage System has been seen to ease and relieve stiffness and joint conditions which are often more prevalent during cold, damp conditions.


A non-invasive addition to your tack
The non-invasive Pro Equine Massage System targets each of the main muscle groups from poll to hindquarters using fourteen individual, programmable massage motors. Amongst the benefits seen are improved mobility, healthier lymphatic drainage, increased circulation and an improvement of spinal and joint mobility.
For horses who have already suffered an injury the Pro Equine Massage System can help accelerate repair as well as reduce muscle wastage in those on box rest.

Sue Adkins and her daughter Lilly found the system invaluable last winter. "We can truly say that it is one of the best pieces of "kit" in our tack room and has been a real asset in improving our horses' performance, condition and overall wellbeing. We use the Pro Equine Massage System everyday as a warm up prior to exercise.
"It means Lilly can be riding one horse while the System is on another horse warming his muscles prior to working and then the System will be used post exercise. During the spell of ice and snow the System was on the go constantly, if not on one of our horses, you can guarantee that someone in the yard will be asking to borrow it!"

Used and endorsed by top competition riders, including Oliver Townend, Richard Davison and Tim Stockdale, Cyclo-ssage is so confident of the results that a team member will visit your yard and give a free demonstration on request.
They believe the majority of owners will see and feel an improvement in the way their horse's move after only one session and the Cyclo-ssage advisors will be happy to recommend the appropriate massage schedules to help with a wide variety of common problems.

Prices start at £2,000 + vat. For more information about the Cyclo-ssage Pro Equine Massage System visit: www.cyclo-ssage.com or telephone 0800 169 2808 to arrange your free demonstration.
Latest News