Are you a 'fit farrier?' Charity Compeition for 2015 Calandar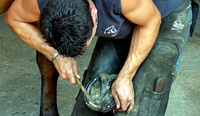 Sussex based Equine Charity 'How 2 Train ur Human' are putting together the 'Fit Farrier 2015' Calendar in order to raise awareness of the work they do and to raise funds towards an affordable animal ambulance for the Sussex area.

Please send us your pictures of your beloved horses with your farrier with as much detail as possible including farriers region and your horses name and nominee's name.
The photos can be fun, serious, black and white, colour current or decades old......
Upload your pictures to their facebook page or email [email protected]com. Original copies can be posted with a stamped addressed envelope for return and same address written on back of photo to 47 Locks Crescent, Porstlade BN41 2AD.
For further information please contact Amber John on 07926599121.
The competition will run until July 31st 2014.

Successful applicants will be announced in August issue of Horsemart, how2trainurhumans Facebook page and website. Specific months will not be announced until released for sale.
Farrier and nominee will each receive a free copy of the calendar.
PLEASE NOTE-
You must have Farriers permission to enter, as must any Farriers have owners permission to enter photographs into our competition.
Latest News