Amy Guy - The Multi-talented Gladiator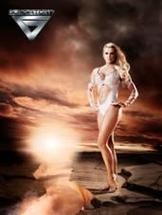 In this World there are many beautiful people, many talented sports people and many academically bright people. However, there are very few people who have all of these impressive attributes. Step forward 25 year-old Welsh beauty Amy Guy who is currently receiving press attention for her role as Siren in the SKY TV series Gladiators and her many other talents. As she prepares for her next challenge playing polo against Katie Price, we look at how she's come to be competing at one of the UK's biggest equestrian events against one of the UK's biggest celebrities.
Amy Guy

Originally from North Wales, Amy Guy grew up in a small Welsh village and currently resides in London. With an impressive CV of sporting achievements, Amy remembers being very interested in sport from an early age, "I was always very sporty as a child and began horse riding from a very early age. Over the years my sporting ability gave me the opportunity to represent my country in various fields. I hurdled for Wales, ran cross country and net-ball at national level, represented my country horse-riding for 5 consecutive years in Mounted Games and Show jumping and finally achieved my goal of being part of the Great British squad. I also competed and won at International level throughout the UK, Europe and America. Whilst at University I played polo and turned my hand to stunt riding and jousting."
But being a talented sportswoman wasn't Amy's only gift, "Alongside all this sport, was my education which my parents always put first. I was a studious girl achieving straight A's through school and college, and was also a member of the UK's Mathematical Team! I attended Nottingham University to study Architecture, then I studied for another two years to gain my Masters in Architecture."
After a year of International travel and a work experience placement at a well established Architectural Practice, Amy felt the need to work abroad to broaden her architectural and cultural design thoughts and ideas. She moved to Kuala Lumpur - Malaysia for a short while and worked for a team of Global Residential Developers. Alongside Architects, Surveyors and Planners, Amy assisted in designing an impressive collection of luxury villas and duplex apartments. Amy then returned to the UK and continued to work in the Residential Field and study another two years at University to gain a Masters in Architecture.
"Whilst travelling through my year out I was fortunate enough to win the title of Miss Wales and travelled to Miss World in China where I came 7th! I had never intended to enter a pageant like this, it just so happened that a friend entered me and I got persuaded into turning up at the event. However this was an amazing experience and no matter what hype and criticism pageants get - unless you have competed in one, you shouldn't mock them. They provide girls with a vast experience of world culture and travel and do an awful lot of charitable good. I then won the title of Miss UK and travelled to Japan to compete in another Pageant. With my sporting background, I also won the Miss World Sports & Fitness and subsequently got sponsored by to run a selection of marathons across the globe."
Amy Guy
Alongside study, sport and travelling Amy also made time for her modelling career enjoying jobs with International fashion and sporting brands such as Ralph Lauren, Jimmy Choo, Adidas, Nike, Asics, La Perla, Janet Reiger, La Senza and Zara.
Whilst working as a freelance Architectural designer in London (www.amyguydesign.co.uk), Amy decided to try out for SKY's new Gladiators series. "I applied to be a contender and was asked to try out as a new Gladiator as they were looking to recruit two new females. When I was selected out of 12,000 applicants it was an absolute dream come true. As a child I was probably gladiators' biggest fan and never failed to watch a show. It is now my chance to swing on the rings, unleash some power and to bring down any contender who crosses my path. I was happy when the producers chose my gladiator name of Siren, as they are meant to be goddess's of perilous seduction! I was dreading that they would try and make me into one of the bad guys as I find it really difficult not to smile. What can I say... I'm just a happy kind of girl!
Amy Guy as Siren the Gladiator

Looking forward Amy has her sights firmly set on winning the Celebrity Arena Polo match at the British Open, then the Olympics! "With my Sporting side coming back into play, I now have my sights set on the Olympics 2012. I am back in athletics training and hope to compete in the Modern Pentathlon. My goal apart from competing at the Olympics and to build an Eco-House, which will be filmed for a one-off documentary this year, is to be a Bond Girl! I have just starred my first role in feature film, The Flirting Club directed by Oscar nominated director Alex Jovy, and have proved through Gladiators that I'm a tough chick so watch this space..."
Amy Guy will be competing against Katie Price in the British Open Celebrity Arena Polo match on Sunday 19th April. Both celebrities will play alongside two top polo professionals and compete in front of thousands of spectators. Tickets are still available for the British Open Show Jumping Championships (16th – 19h April at Birmingham's NEC). Visit www.britishopenshowjumping.com for more information and to book or call the NEC Box Office on 0844 581 1301.
The British Open features international show jumping classes, including the Puissance where riders tackle the famous wall that often achieves heights of over 7ft, contested by Olympic competitors, comprising the best British show jumpers and leading foreign contenders. Additionally visitors will also witness Indoor Cross Country, which has previously featured leading riders including Zara Philips MBE, Dressage to Music and stunning equestrian displays and entertainment including the Metropolitan Police Activity Ride where Officers and their mounts jump through rings of fire and hoops of paper at high speed – It's a must for any sports enthusiast or family looking for a great day out.
Latest News