Amateur jockey to ride at Cheltenham Festival five years after brain injury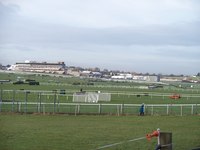 Twenty-year-old amateur Jessica Westwood will compete in the Christie's Foxhunter Chase at the Cheltenham Festival this month on a horse bought for just £7,350.
The race will represent a return to the sport for Jessica, who suffered a brain injury when she fell from her horse when she was just 15 years old.
The Christie's Foxhunter Chase is considered to be the amateur version of the famous Cheltenham World Cup.
Jessica and her horse will be up against horses owned by the Queen and the Irish businessman, JP McManus.
As reported by the Telegraph, Jessica suffered swelling to the brain and a perforated ear drum when she fell and was then kicked in the head by her horse.
She had to learn to walk again but was told that getting back on a horse as soon as possible could help with her balance.
Her horse, Monkerty Tunkerty, was bought in May 2010. The nine-year-old gelding has qualified for the Foxhunter Chase on Friday 16 March 2012 as part of the Cheltenham Festival.
For the full story, visit the Telegraph website.
News