A Message from Lyn Friel - Founder and Manager of Crosskennan Lane Animal Sanctuary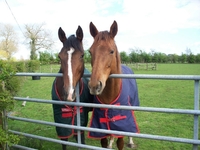 Crosskennan Lane Animal Sanctuary
has struggled to make it through an incredibly busy 2011. The recent Lisnevenagh Road rescue pushed our volunteers, resources and facilities to the limit. However, the satisfaction of seeing each and every one of the neglected, sick and starving ponies improving has made all the hard work worthwhile.
We'd like to thank everyone who has come forward and helped, offered help, donated food and funds - we couldn't have managed without your support. We'd also like to pay tribute to our volunteers for going above and beyond the call of duty to ensure all our animals got the care and attention they deserve - their dedication is second to none.
To those of you who have offered help and not heard back from us, we sincerely apologise - the Lisnevenagh case generated a lot more reports of neglected and starving ponies across NI which we are trying our best to respond to - therefore some of our admin and communications have backlogged.
We still have 16 of the rescue ponies to care for as well as 80 of our own resident ponies and newly admitted welfare cases. Please contact us again if your offer to assist has been overlooked. We would like to hold a special training days for anyone who wants to become more involved in working with our animals - watch this space for a date!
A special thank you to Sergeant Alison Liddle for her professionalism and dedication to the case and Redwings for taking 23 of the ponies, for which we are immensely grateful - in particular, Nic de Brauwere and Nicola Berryman for their commitment to the ponies' health during and since the rescue. Also The Donkey Sanctuary and Jane Bruce from IHWT for all their help and assistance - THANK YOU ALL!
With the worst of the winter still ahead of us, we are bracing ourselves for further multi-horse welfare calls but we hope with your ongoing support, we will be able to help each horse that requires our assistance.
Lyn Friel


Crosskennan Lane Animal Sanctuary CLAS


If you are interested in helping the charity in any way please contact CLAS. We also need volunteers to help with our rescued cats. Training will be given to all new volunteers.


26 Crosskennan Lane, Ballynoe, Co.Antrim BT41 2QY

Picture: Rosa and Shelta

News