A Close Contest at the Cleveland Bay Sport Horse Awards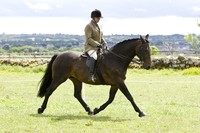 The Sports Horse section of the recent Cleveland Bay Horse Society's UK Performance Scheme Awards proved to be a closely contested battle between two riders – one based in the North and one in the South.
But only one horse could triumph in this section and the horse with the most points was Appleton Wiske, owned by Hampshire-based rider, Jo Strange. A delighted Jo was presented with the Northern Breeders Performance Competition Cup.
The part-bred mare was also place 2nd in the Part Bred Mare section and 4th in the Ridden Showing section.
Appleton Wiske, or 'Milly' as she is known at home, has reached the impressive age of 23 and has been with Jo for 21 of these years. Last year Jo made the decision to compete Milly in just a few select events to support the Cleveland Bay breed and keep her active. She had a great season and did pretty well in everything she entered and was unbeaten in Cleveland Bay ridden classes.

Said Jo: "Over the years, Milly has tried most disciplines. She was shown at county level in youngstock, and working hunter, ladies hunter and small hunter classes, and has BD points and has won under BSJA rules. She was runner-up in the Ridden Cleveland Bay class at the Royal when she was a 19, and has also completed some BE pre-novice events and is an excellent side-saddle horse, winning a working hunter class at the Side Saddle National Championships. Everything she has done astride, she has also done side-saddle, including hunting with the bloodhounds."
"While she is still fit and healthy I shall continue to work her at Elementary level plus at home, and do a little jumping, and we will have the occasional day out hunting, which she loves, but she really has nothing left to prove. She is a wonderful example of just how versatile the Cleveland Bay breed is."
Pipped into runner-up position in the Sports Horse section was Aberdeenshire rider, Muick Wood and his mare, Oaten Whinbush Bay (Grace), who was also placed joint 5th in the Ridden Showing section and was the highest placed pure-bred in the Sports Horse section.

Muick is a keen supporter of the breed and has been a member of the Cleveland Bay Horse Society's council for the past four years. He also came fifth with Grace in the Ridden Hunter section of the Scottish Showing Championships and 4th in the Preliminary section of the North East Scotland Dressage Championship.
For more information on this endangered rare breed, contact the Cleveland Bay Horse Society on 01904 489731 or visit www.clevelandbay.com
Latest News