9 Halloween Dressage photos you HAVE to see.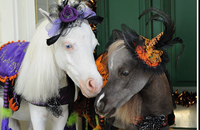 They are Spooktacular!
Here at Horsemart we love Halloween; we nearly love it as much as the Americans! As we all know dressage dress up can be great fun for everyone. You can theme it throughout the year at Christmas, Easter, Halloween & many more. We have searched around the internet to find our favourite Halloween dressage costumes, and trust us when we say we have found the best ones! All from pumpkin themed to even Star Wars, people can be so created when it comes to their horses.
We like to call this one....Mare'y Potter!
'Thou shall NOT pass!'
The Skelator! - This person must of had ALOT of patience!
Zombie Nation 'there seems to be a dog leaping out of your tummy!'
CUTE ALERT! This is just adorable!
'Hey, has someone seen my head?'
'I'm BATMAN!'.....with Mickey Mouse ears?
'I can flap all I like, but i'm NOT going to fly!'
Still trying to find my head...looks like this Pumpkin will have to do!
Have any crazy dressage photos? Upload yours onto your Facebook page




Latest News