2011 tour dates for Spanish Riding School announced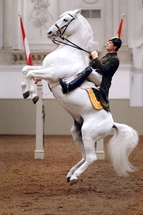 Details have been released regarding the Spanish Riding School tour.
The Spanish Riding School of Vienna announce their 60th international tour due to start in 2011 and with only three London dates – tickets for this exclusive event, to be held at Wembley Arena in November 2011 are the "must have" Christmas gift for this year.
Excitement builds for new Spanish Riding School tour

It is five years since the majestic, highly trained horses and riders of the 430 year old "High School for Classical Horsemanship" have graced the halls of the UK. Their last tour sold out within days as the opportunity to see the scholars of the Winter Riding School based in the Hofburg Palace in Vienna is a rare occurrence.

Their new show titled "Imperial Dream" sees an impressive display of classical equitation in the Renaissance tradition of the haute école.

Visitors to the world famous Spanish Riding School in Vienna thrill in the absolute balance and harmony achieved by these beautiful White Lipizzaner stallions and their regal riders. Famed for their in-hand work and movements above the ground such as the Capriole, Levade and Courbette the Imperial Dream Show will feature all the classics but with a difference….

In keeping with their Austrian heritage the addition of live orchestral music and dance will add another dimension to this breathtaking extravaganza. Incredibly moving, highly sophisticated and full of the glamour of Imperial Vienna this is one ticket that lovers of horses and the arts won't want to miss out on.

The Imperial Dream by the Spanish Riding School, Wembley Arena, London:

Friday 25th Nov 2011 – 8pm
Saturday 26th Nov 2011 – 8pm
Sunday 27th Nov 2011 – 3pm.

Tickets go on sale at 9am on Wednesday 17th November priced at £65, £55, £35 & £25 (subject to booking fee) and are available from www.livenation.co.uk

For VIP packages or Hospitality go to www.LiveNationExperience.co.uk or +44 (0)207 009 3484
News