Jimjam the Ginger Ninja: Speedy boys can jump!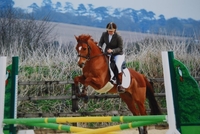 Louise Harris
Horsemart reader and blogger Louise Harris owns a very special horse – her very own ginger ninja called Jimjam. This is the second instalment of Jimjam's blog. For his first, read Meet Jimjam the Ginger Ninja.
For a couple of weeks now, my mum has been threatening me with jumping. Given that I had decided that I didn't want to play polo anymore, she reasoned that we should look for something that we both found fun. Fun? Really?
We had popped over a couple of small ones before but nothing big, not very many and definitely not in an orderly fashion. Today, mum turned up with Aunty Lucy and loaded Roy and me into the trailer. We hadn't travelled very far when we stopped. From my little side window I could see a big field with lots and lots of jumps... OMG. Roy and I were quite worried by now, although Uncle Jamey was there so that helped my confidence. You see, he makes me do new things and stretch myself, but he never makes me do anything really awful.
We began by walking and trotting around to familiarise ourselves with this new field and I was feeling quite nervy. Roy was less nervy than I was, and that helped me to settle down a little bit. Then we started jumping. We went over one, and that was ok. Then next time we tried going over two in a row and that was ok too. Gradually we built up to doing eight jumps in a row! It was amazing, and we were actually quite good at it. Some of the jumps were made of beer barrels and one even had bright pink pigs on it. I'm not that fond of pigs myself, I find their squeal quite disturbing but these ones were stuck to the jump so I figured they wouldn't be squealing anytime soon. Mum and Aunty Lucy were really pleased with us two ninjas and they gabbered all the way home.
About Jimjam
Bonjour! My name is Jimjam and I am a ginger ninja, or at least that's what my mum calls me.
I first met my mum a few years ago when I was just six. I started life as a racehorse in Dubai. I won a couple of races but I didn't like being out in front all by myself. I prefer to hang back and have a chat with the lads. Needless to say, I was passed on.
I was bought by a polo farm and retrained to play the sport of kings. This is where I met mum. She came into my stable one morning to fetch me and she took one look at my gorgeous gingerness, and I don't mean to big up my little self too much, but she fell in love. Totally head over heels, man, she really fell for me hard! Whoa, I am catnip!
My mum exercised me for the summer, played on me a little bit, she loved me, and fell even more in love with me - if that was even possible. Besotted – totally! At the end of the season, I was put up for sale by the polo stable and my mum was devastated, as she wasn't looking for a full time ninja. But she just couldn't let me go to anyone else. So I moved again, only this time, I knew it would be for life…
Jimam has his own blog spot at Wonder-horse.co.uk.
Interested in writing your own blog for Horsemart? Find out more about how to get involved by clicking here.
Browse our horses for sale or place an ad on Horsemart now.
News