!—RADIUMONE POST BEACON TAG—>
Mountain & Moorland horse - 6 yrs 14.2 hh Grey - West Yorkshire
Irish bred By Castle Squire (by Abbeyleix Owen) out of Irish Lady (by Aille Hasty Bits) Qualified BSPS Winter Champs 2012 and ready to go. Traditional stamp of Connie, excellent conformation, lovely temperament, absolute saint to ride and deal with. Ridden by nervous 13 year old and 72 year old dad safely. Could be a competitor at affiliated level or an addition to any family as a fab all rounder. Has popped a fence. Ideal for mother/daughter share. Seen West Yorks
Category:
Mountain & Moorland
Price:
£ 3,500 ONO
Horse's name:
TULLACOT LAD
Passport No:
G02157
Age:
6 yrs
Colour:
Grey
Gender:
Gelding
Height:
14.2 hands
Breed:
Connemara
Registration details
we're sorry, this ad is no longer available.
Latest ads in the same category:


Saturday May 2nd - 10.30am start. Seats are £10 each and all proceeds go to help the horses at the centre. Seats are already being booked - call, text or email for yours http://www.mrwc.org.uk/
visit now >

The internet tack shop- top brands, rock bottom prices!
visit now >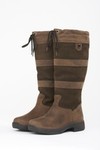 Stylish Dublin River Boots available in Dark Brown, Chocolate & Black! Now waterproof with HBR membrane and RCS footbed!
visit now >