!—RADIUMONE POST BEACON TAG—>
Hunters horse - 6 yrs 15.2 hh Blue & White - West Yorkshire
Blue is a fantastic hunter, very brave with a great jump. He is excellent to handle in all ways. He will hack out, good to box, clip and shoe. He is a forward going ride in the school so not suitable for a novice. He will live in or out and mixes well with the herd. A really genuine horse with the potential to go on and do great things with the right rider. 01274 511067 or 07932186444
Category:
Hunters
Price:
£ 3,750
Horse's name:
Blue
Age:
6 yrs
Colour:
Blue & White
Gender:
Gelding
Height:
15.2 hands
Breed:
Irish Sport Horse
Registration details
we're sorry, this ad is no longer available.
Latest ads in the same category:


The No 1 equestrian gift this Christmas, don't miss out on the most innovative equestrian product in recent years. Order before the 12th December to ensure Christmas delivery
visit now >

Get Christmas wrapped up early. Look on our website for our saddle pads, fly veils, hoodies, polos, for Christmas presents.Call us on 07714269218 or email
[email protected]
visit now >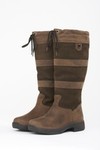 Stylish Dublin River Boots available in Dark Brown, Chocolate & Black! Now waterproof with HBR membrane and RCS footbed!
visit now >