Olympic show jumping - who might be there?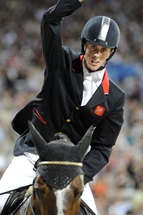 The equestrian jumping at the London 2012 Olympics already promises to be an exciting event.
So far 20 nations have qualified teams or individuals to compete at the 2012 Olympics, and there are some strong competitors from every country.
British Show Jumping is very strong and the British team and individuals will be expected to win medals, but this is by no means a certainty. One of the most exciting things about equestrian events is the uncertainty of having a horse as a competitor.
Ben Maher, who competed in Beijing in 2008, is one of Britain's top performing competitors with a strong string of horses, but he had slipped eight places in the world rankings at the end of last year.

Guy Williams also features very high in the world rankings. However, one of his top horses, Titus, was sold to Australian rider Edwina Alexander in January.
Tim Stockdale recently had a very bad fall, fracturing three vertebrae in his neck. Despite this, he is still determined to represent Britain in the Olympics and the team would benefit from his experience if he were selected.
The Whitaker family as always has a number of horses who are in contention, and Ellen Whitaker in particular is looking to be very competitive.
Britain is entitled to a team at the 2012 Olympics as the host nation and certainly has the strength and depth to put forward a competitive team when the time comes. France is also fielding a number of strong contenders, one of whom is the exciting rider Julien Epaillard.
The Frenchman is very exciting to watch, keeping spectators on the edge of their seats. His style is fast and accurate, and when it goes right it very much looks like he could win medals. There are a number of other riders coming through in the French system who also are worth keeping an eye on.
In particular, Timothée Anciaume, Eugénie Angot, Jérôme Hurel and, of course, the fabulous Kevin Staut. The USA consistently turns out top show jumpers and is always competitive. Beezie Madden in particular has been going from strength to strength lately.
Christine McCrea has also recently been challenging Beezie for medals. Kent Farringdon and McLain Ward are other riders to watch for the US, although the latter broke his leg in a fall in January and isn't expected to be competing again until mid-May.
Photo: Ben Maher at the 2008 Beijing Olympic Games by BEF/Kit Houghton
Browse horses for sale or place an ad on Horsemart now.
Articles