Llamas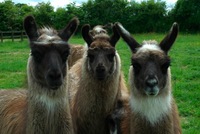 Llamas make fantastic pets. They are gentle, fascinating, fun and undemanding animals that can be easily trained and will happily live alongside other breeds, making excellent companions for the lone pony or horse. They accept dogs readily, providing that the dogs are sensible with them!
The average life expectancy is around 15 years of age. They make very little noise, eat less than sheep, rarely need veterinary care, and are gentle on fencing, housing and land. A field shelter is desirable, but a llama will usually prefer to seek shelter against a hedge or under a tree. They can be kept at a stocking rate of up to 6 per acre and primarily eat grass, supplemented by hay when needed.
Classified as exotic pets, they require no licence and are wonderfully paperwork free in terms of DEFRA requirements! They are very clean and do not require shearing. Their coats come in a variety of different colours and are lanolin free, so fly strike is rare. Llamas can be brushed to harvest their fibre, which can then be spun into a luxurious wool. If you are not planning on spinning, an occasional groom is all that is required.
Llamas have soft, padded feet with 2 toenails. These may occasionally need trimming, but if the llama has access to hard standing, this may not be necessary.
Llamas are very sociable animals and get on very well with people. Being herd animals they must never be kept on their own. Llamas can spit amongst themselves to maintain a pecking order, however this is a much over-hyped characteristic as llamas rarely spit at humans unless badly treated or put in a situation that they find excessively stressful.
When considering llamas, it is a good idea to visit as many different breeders as possible, and to join The British Llama Society, in order to become as fully informed as possible about these wonderful creatures.
By Caroline Pembro AKA The LlamaLady

Articles