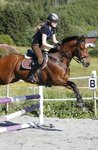 offline now
| | |
| --- | --- |
| views: | 1066 |
| treats: | 0 |
| awards: | 0 |
| friends: | 0 |
| dates: | 0 |
| faves: | 0 |


about me:
my name:
Chubby
age:
15
i'm from:
Norway, Bergen
country:

England
gender:
Male
breed:
when I arrived:
I was first born in Ireland. When I was 4 yo in 2002 I was imported to Denmark, where I was with a girl who couldnt handle me. In 2003 I was sold to olympian rider Carsten Ganderup, who teached me to jump on a high level. Then I was sold to Norway.
bio:
Chubby is a pony with very big personality. He is afraid of many people because he has been abused, but the with one he feels safe on he is an angel. He is hot-tempered and very fast, but he also talks all the time! He squeal, whinny, neigh and snort
special features:
He is one of Denmark's highest jumping ponies with a record on 1.55 cm (5ft). He is unbelivable fast, faster than any racehorse I know. He is also hot-headed and talks with wierd noises. Hissy feats? Oh yeah ..
likes:
He loves his grains! He also loves moats (lol) mud, carrots. And most of all- jumping and running. He is totally losing his head out hacking in the fields or in the jumping arena!
dislikes:
Dark tall males, dressage, slow walking, trailer, rosette prizes, going behind other horses ..
my album:
tags: