Train Your Own Roping Horses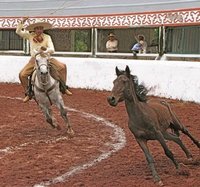 How to Train Your Horse to Rope
Training roping horses can be good for both you and your horse. When you train a roping horse it can make for good sport, exercise and be very rewarding. Training a horse to rope is very satisfying. To learn about roping horses and how to train a roping horse, see below.


You Will Need:
• Bale of hay
• Bridle
• Lasso
• Roping dummy
• Saddle


Before you can begin training a horse to rope your horse must be used to horse training techniques. The horse should know how to do the following beforehand:

1. Walk, trot and canter
2. Canter depart well
3. Move from standing still to canter in one step
4. Back easily

Once these have been mastered, you can begin to train a roping horse.


Ropes
Train a horse to get accustomed to ropes. Hang up the lasso in the stall for a while. This is a good step when starting to train a horse to get used to the rope. Every time the horse is being fed, hang a few different ropes in different positions in the stall and move these around.

Whenever you lead the horse around, make sure you have the rope in your free hand. Swing it a bit. Make sure the horse sees the rope moving around him and his face. Carry it even when riding and begin to swing it about.


Dummy Practice
Attach a roping dummy to an old hay bale. You can normally buy these from a tack shop or catalogues. They come shaped like the head of a calf and are made for horse training purposes. Position the dummy in the bale so it sticks out. Ride your horse slowly towards the bale of hay. When you think you can, swing the rope making sure it goes past the horse's face.

Catch the dummy head with the rope and then back your horse off immediately. Once the rope is taut, get off the horse and walk beside the rope in the direction of the dummy. If you feel the horse moving around, go back to him and get him to remain stationary.

Repeat training a horse like this and soon enough you will have the ability to train roping horses.


Articles