How to ride a horse - building a relationship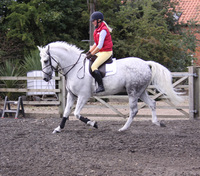 The Rider – Holly Gaunt
Holly Gaunt won the opportunity to have a lesson with event rider Harriet Morris-Baumber courtesy of EquestrianClearance.com.
Nineteen-year-old Holly is based in Knaresborough near Harrogate, and is a student at Bishop Burton College. She also works for her father in the family business in her spare time.
Holly's passion lies in the show ring. She has been a regular competitor at the BSPS and Ponies UK championships on a range of show ponies and show hunter ponies and currently ride's Andrea Peel's Intermediate Show Hunter Maateus.
Two and a half years ago Holly had a nasty fall from a horse which saw her hospitalised. After this incident the hunt was on to find a horse which would restore Holly's passion and faith in horses.
Just over a year ago Holly and her mum stumbled across a five-year-old Irish Draught cross Arab called Trooper. Trooper was in a bad condition when they went to try him but when Holly rode him, her mum saw glimpse of the horse which could be developed for the future.
The pair quickly set about a successful partnership, either winning or coming second on every outing and collecting five championships this year. A regular on the Riding Club circuit, Holly is a member of two riding clubs, Selby and Ilkley.
This year Holly and Trooper also qualified for Equifest and the Festival of Champions. Holly's ultimate aim with Trooper is to enter the Working Hunter scene and to compete next year at Ponies UK and BSPS.
The Trainer – Harriet Morris-Baumber
EquestrianClearance.com sponsored rider Harriet Morris-Baumber has been having a brilliant season. This summer she represented Great Britain riding Shannon Dales Skatman at the European Championship and jumped a double clear picking up a team bronze medal.
Harriet has also stepped up a level this year and successfully completed her first 3* three day event with Sultao de Valada. Harriet also qualified Opulence for the Riding Club Eventing championships but was unable to compete in the finals due to other commitments.
Harriet finished her season with a run at Aske Hall riding Tracy McCullen's Primitive Justice in the Novice Section. Harriet has temporally taken over the ride due to Tracy badly breaking her finger and has only ridden the horse on a few occasions.
The lesson
The Warm-Up
Holly and Trooper started off in walk to loosen them both up and to get used to the new surroundings. Harriet immediately saw Trooper had a lovely rhythmical walk and asked them to progress to trot.
Watching the pair, Harriet commented that Trooper needed to go more forward in the trot and by trying to move into canter, he was evading, Holly's aids.
She also noticed Trooper found it difficult to bend to the inside and needed to be more supple.

To deal with the issue of not going forward in trot Harriet asked Holly to move Trooper around the arena at different speeds in the trot. Trooper was comfortable in collected trot but as soon as Holly asked for bigger steps Trooper would try and canter rather than take a longer stride and more consistent rhythm.
Harriet observed that Trooper found it difficult to engage his back legs to send him forward in a powerful medium trot so she asked Holly to work Trooper in canter for a while, helping him to move forward. After a few circles on one rein Holly came back to trot and there was a major improvement in the trot work. Trooper started to give a few strides of medium trot before reverting back to his old ways and attempting to canter.
Although Trooper had improved after the canter, he was still unwilling to trot forward and use himself correctly. To try and combat this problem Harriet commented on Holly's position when she asked for a bigger stride. Holly would sit quietly and straight when performing collected trot, however when it came to any extension Holly leaned slightly forward and let go of the front end loosing the power she had when in the collected trot in an attempt to gain speed.
Harriet asked Holly to sit up when she asked for medium. By doing this she was able to ride Trooper upwards and forwards allowing the back legs to engage and bringing impulsion to the stride. By changing Holly's position Trooper improved again, and the medium trot looked much better.

Trooper also found it hard to be supple and at the start of the lesson when Harriet asked Holly to circle as small as she could the circles were always quite large. Harriet then asked Holly to ask for more inside bend in an attempt to loosen Trooper up. Holly and Trooper then progressed to a shoulder in exercise. As Trooper loosened up these really improved and so did the size of Holly's small circles.
Holly and Trooper then moved to the field, where the show jumps were set out. As Holly and Trooper have not done much jumping the aim of this exercise was to give them both confidence in each other and give Holly a few pointers to think about when she is practising at home.
Holly's vision for her competitive career with Trooper takes her down the Working Hunter path which requires Holly and Trooper to jump a course of rustic fences, therefore Holly was keen to get started with the jumping.
They started by jumping a small cross pole to warm themselves up and gain confidence in each other. However when jumping this fence Harriet could see a few small problems occurring. Trooper was quick to rush his fences, and this caused him to jump in a rushed manner and canter off on landing.

Harriet asked Holly to use her voice and the next time they approached Trooper was much calmer. After the fence Holly pulled Trooper up as quickly as possible to teach him not to run off after the fence.
Harriet also noticed that Trooper rushed his fences because Holly leaned forward two strides from take-off allowing him to increase his speed. Like the problem with the extended trot, Harriet asked Holly to make sure she kept her body tall throughout the exercise and on the approach to the fence to stop Trooper rushing.
After a few jumps over an upright fence and putting all Harriet's tips into practice, concentrating on the approach and landing Trooper and Holly could be seen to gain a lot of confidence.

Harriet concludes: "I really liked Trooper and Holly is a nice quiet rider. They obviously have a good partnership together and now need to gain confidence and experience at competitions to take their training forward."
Added Holly: "I really enjoyed the lesson and felt I really clicked with Harriet and hope to go back and have some more lessons to improve on what we worked on during the day."
For further information please visit www.equestrianclearance.com
Articles