How to qualify for British Dressage championships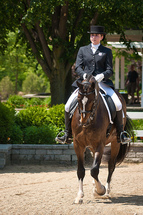 By Georgina
Unless we are riding at the very highest level of dressage and representing our country, the highlight of the year and the goal we aspire to, are the various regional and national championships run by British Dressage (BD).
Over 10,000 classes each year provide a route to the Summer and Winter Regional Championships and in turn to the National Championships. The summer series runs from 1 December to 30 June and the winter series from 1 July to 30 November. The Summer Championships are held in September and the Winter Championships in April.
This year the way to qualify for these has changed substantially and a lot of debate has been generated on whether this change is for the better. It was previously possible to qualify in one or two shows, since qualification was based on wins.
The new system for Novice and above is point based. While arguably this means riders must achieve more consistency - it may have been possible to win a poorly attended class before - it could also mean that, especially at lower levels, riders need to enter more classes, which could be more costly.
The full list of points needed at each level is published on the BD website, but as an example, at Novice, 19 points must be gained, 10 of which must be from qualifiers and at Prix St George, 6 points are needed.
Prelim riders
There are special requirements for Prelim riders, who need to win two qualifiers with a score of 65% or above, be group 7 or 8 riders and not have more than 49 points. This should ensure that the competition does remain open only to genuine grass-roots riders.
Aside from these competitions, the most exciting opportunity for many riders is the Pet Plan Equine Area Festivals, followed by the Championships. These were set up to provide a high profile, yet relaxed and friendly competition series.
A perfect introduction for less experienced or non-professional riders and maybe less-expensive horses! The 16 Area Festivals run from April to October and there are 3,000 qualifying classes each year. Riders need to achieve two scores of 62% or above at Prelim and Elementary and 60% or above at Medium to PSG. These scores must be from the same calendar year and at affiliated competitions.
The Area Festivals and the Championships in April are run with all the atmosphere of the National Championships - flowers, music and commentaries make them very exciting events to participate in. The ranging age of riders and types of horses and ponies at the Area Festivals this year confirmed how accessible the series is.
So, if you want the thrill of a Championship, look for these qualifiers in the next list of events and remember, you can 'have a go' with a day ticket as well.

Photo courtesy of Bob Haarmans
Articles