How to Pick a Horse Riding Instructor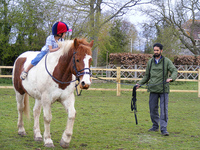 Choosing a Horse Riding Instructor
Even those who have been horse riding for quite a long time can find some benefit in taking riding lessons. When you have been riding a horse for a long time, some bad habits can begin to find their way into your riding and if you intend to enter competitions, this could harm your result. It is important that you and your horse riding instructor connect well and get on well. If there is a clash of personalities then horse riding lessons will probably not work. It is worth looking around and getting to know several horse riding instructors so that you can choose the one who best fits your personality. This guide is written to help you make that decision.


Choosing Your Horse Riding Instructor
• Before you consider hiring any horse riding instructor, you must first decide on what discipline you want to take lessons in. Riding a horse in show jumping is a completely different discipline from riding a horse in dressage and will require a different horse riding instructor to give you the lessons. Even if you are a complete novice, you will need to decide on whether you want to ride in an English or Western style.

• Ask people you may know to recommend a riding instructor and go and observe them giving a lesson. This will give you a good indicator on whether you like their style of teaching and methods.

• If there is a particular horse riding instructor that you think would teach you well. Talk to them about their experiences with horse riding as well as teaching. Discuss what you want to learn and whether they can offer it. Try to note how they treat both the horse and the rider when they a teaching. Lastly, check the condition of the horses and the facilities. An instructor that correctly cares for their horses and takes pride in their surroundings is likely (although not necessarily) going to be a better instructor.

• You may want to take horse riding lessons in order to start competing in a specific discipline. Discuss with them their previous experience and achievements in that discipline, both the instructor's and their student's.

• The horse riding instructor may let you take a couple of trial lessons before you sign up to a full course of lessons. This is worth taking as it gives you first hand experience of the instructor and their methods and whether or not you like them. This offers the best way to compare different horse riding instructors.

• Some instructors will be better at some things than others. For instance, a horse riding instructor may be very good at teaching people the basics of horse riding and getting them comfortable on and around horses but to take a skill further you may need to move on. Don't be afraid to change a horse riding instructor if you think they can no longer offer you anything.

Articles